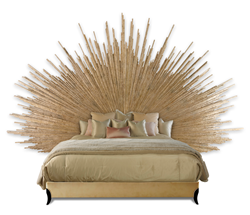 I am immensely proud to be a sponsor of the 2014 Britannia Awards. The caliber of talent that these awards attract is second to none, and I'm both proud and excited to be presenting a part of my collection.
Beverly Hills, Calif. (PRWEB) October 29, 2014
Innovative furniture brand Christopher Guy is designing and furnishing the honoree room for the 2014 BAFTA Los Angeles Jaguar Britannia Awards presented by BBC America and United Airlines, to be held Thursday, October 30th, 2014 at the Beverly Hilton Hotel.
Christopher will also be providing furnishings for the VIP Reception for the event, which will be aired in primetime in the US on BBC America on November 2, 2014 at 9.00pm Eastern/6.00pm Pacific.
The honoree room will feature a series of significant feature pieces from the CG Collection. The centerpiece of the star-studded room will be the eye-catching Cosmopolitan headboard.
Christopher is overseeing the vision of the Honoree Room and VIP Room, which will be seen around the US on BBC America.
BAFTA Los Angeles' Britannia Awards honorees for 2014 are Robert Downey Jr, Mark Ruffalo, Emma Watson, Mike Leigh, Julia Louis-Dreyfus and Dame Judi Dench. British actor/ comedian Rob Brydon will once again host. Full details here (http://www.bafta.org/losangeles)
Christopher Guy, maker of some of the world's most fabulous furnishings, is a global provider to the luxury residential and hospitality sectors, and dedicated to the unique vision of marrying elegance, beauty and grace. The CG showroom locations include London, Singapore, Shanghai, London, Paris, Milan, Los Angeles, New York City and Las Vegas.
Speaking ahead of the show, Christopher said, "I am immensely proud to be a sponsor of the 2014 Britannia Awards. The caliber of talent that these awards attract is second to none, and I'm both proud and excited to be presenting a part of my collection."
For further press information or interview requests, please contact CGPR, Tel: + 1 (323) 332-9520, or email: cgpr(at)brandamb(dot)com
About BAFTA Los Angeles:
The British Academy of Film and Television Arts (BAFTA) supports, develops, and promotes the art forms of the moving image by identifying and rewarding excellence, inspiring practitioners, and benefiting the public. In addition to its awards ceremonies, BAFTA has a year-round, international program of learning events and initiatives that offer unique access to some of the world's most inspiring talent through workshops, masterclasses, scholarships, lectures, and mentoring schemes, connecting with audiences of all ages and backgrounds across the UK, Los Angeles and New York.
Founded in 1987, BAFTA Los Angeles serves as a bridge between the Hollywood and British production and entertainment business communities. Its commitment to professional and community education is at the heart of all activity, including an award-winning community outreach program, screenings, seminars, Behind Closed Doors series, Q&As, scholarships for British students studying in the US, a Newcomers Program for emerging British talents working in the US, and a Heritage Archive project that preserves in-depth interviews with the industry's leading talents for future generations. BAFTA Los Angeles celebrates and promotes excellence through its annual Britannia Awards, Awards Season Film and Television Tea Parties and the Student Film Awards. Visit bafta.org/losangeles for more information
BAFTA Los Angeles is a 501(c)3 non-profit corporation and relies on income from membership subscriptions, individual donations, trusts, foundations and corporate partnerships to support its ongoing work.
About the Britannia Awards:
The Britannia Award is the highest accolade presented by BAFTA Los Angeles, and is a celebration of achievement honoring individuals and companies from the US, UK and beyond who have dedicated their careers or corporate missions to advancing the art-forms of the moving image. The Awards are presented annually at The Britannia Awards gala dinner, where peers and colleagues celebrate the work and accomplishments of the distinguished honorees and gather to celebrate the fruitful relationship between the UK and US industries.
The first Britannia Award was presented in 1989 to Albert R. "Cubby" Broccoli, pioneer producer of the James Bond films. Since the gala's inception, the Britannia Awards ceremony has expanded to include multiple presentations celebrating living legends, rising British stars and internationally acclaimed colleagues. Honorees over the years have included Sir Michael Caine, Martin Scorsese, Dame Elizabeth Taylor, Anthony Hopkins, Colin Firth, Clint Eastwood, Dame Helen Mirren, Steven Spielberg, Ben Stiller, George Lucas, Kate Winslett, Robert De Niro, Daniel Day Lewis and George Clooney.
For more information, please contact:
CGPR
+1 (323) 332-9520
cgpr(at)brandamb(dot)com
###