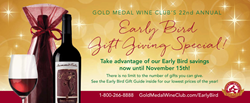 Santa Barbara, CA (PRWEB) October 31, 2014
Gold Medal Wine Club is making it easier for holiday shoppers to find affordable but tasteful gifts for the wine novice and enthusiasts on their lists with a special 22nd Annual Early Bird Gift Giving Special, which Early Bird shoppers receive discounts as high as 44 percent off when they purchase Wine Club Gift membership.
Gift Givers must place their orders before November 15 to take advantage of this special. Besides offering discounts, Gold Medal Wine Club adds more value to its Wine Club gift memberships than other wine clubs. Each initial Wine Club Series shipment is delivered directly to the gift recipient's door, comes with informative newsletters, complimentary organza cloth gift wrapping and a free personalized card. Additionally, the first shipment of every annual Wine Club Series membership comes with a free artist-commissioned Wine Country Gift Box.
All six of Gold Medal Wine Club's series of award-winning, boutique wines are on sale, from the
most popular Gold Series, the handcrafted, artisan Garagiste Series to the top-rated, luxury 93+ rated Diamond Series, qualify for discounts during the Early Bird Gift Giving Special; total savings will vary depending on the Series chosen and the length of the order. Gifts start at as low as $31.66 per shipment.
When purchasing an Early Bird Wine Club Gift Membership, shoppers can choose between shipments that arrive monthly, every other month, or once every three months. Maximum savings start at $151, on the highly-rated 90+ Pinot Noir Series and the premium International Series, and extend as high as $295 on the Platinum Series, which features medal-winning, best-of-class wines with ratings greater than 90. Gold Medal Wine Club offers shoppers additional convenience by delaying billing on each gifted Wine Club series until the first month of the gift is ready to ship. Shoppers can browse the different Wine Club series, as well as other gift options for wine lovers, by visiting Gold Medal Wine Club's website.
About Gold Medal Wine Club
Gold Medal Wine Club has provided club members and other shoppers with highly-rated, rare wines since its foundation in 1992 as an independent wine club; the company only offers boutique wines that have won medals, earned awards, or garnered other accolades and recognition. The company's six Wine Club series and online wine store feature wines from California and around the world, available at affordable prices with discounts as high as 40 percent off in-store retail prices. To learn more about Gold Medal Wine Club, please visit http://www.goldmedalwineclub.com.