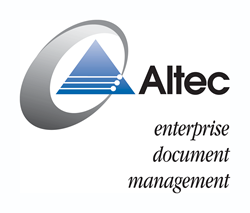 Sage ERP Document Management . . . optimizes Sage ERP solutions to reduce time wasted and money spent, thus increasing workplace efficiency and profitability.
Laguna Hills, CA (PRWEB) October 30, 2014
Altec Products, Inc., a leader in enterprise document management and workflow solutions, announced today their participation in the annual BAASS Connect 2014 conferences hosted by BAASS Business Solutions Inc. where attendees will learn best practices to increase their competitive advantage and maintain their staying power in today's business world. Altec will attend four events in Canada: on November 11th in London, Ontario; on November 12th in Burlington, Ontario; on November 13th in Thornhill, Ontario and on November 20th in Halifax, Nova Scotia.
Now in its 17th year, BAASS Connect is a one-of-a-kind conference designed to help companies take advantage of training to sharpen their technical skills and expand their business acumen. BAASS Connect: "Solutions for Success" will present attendees with the industry's key leaders, technical experts and customer support specialists, all of whom will be on hand to provide answers that will make a difference in how attendees use their software.
Altec will exhibit at the four events, building upon the smart skills taught by BAASS, and will teach attendees how Sage ERP Document Management ensures that businesses get the most out of their ERP system. The integrated document management solution optimizes Sage ERP solutions to reduce time wasted and money spent, thus increasing workplace efficiency and profitability.
Peri Lynn Silkwood, Altec Sales Director for the Northeast, will present a breakout session at each event titled "Understanding How to Calculate the ROI of a Document Management Solution." The session will walk attendees through the process of building sample ROI calculations, demonstrate why businesses should invest in a document management solution and provide the information needed to make sound decisions about going paperless in the future. Silkwood looks forward to speaking with attendees at the sessions: "I can't wait to show attendees how Altec can help drive business by showing them how to utilize their Sage ERP solution to its fullest potential. Altec is always eager to take part in that larger conversation amongst the Sage community. We gain new insights through meeting with users in person."
To learn more about BAASS Connect 2014 and/or register, visit http://www.baass.com/baass-connect-info-page.
About Altec
Altec is a leading provider of Integrated Document Management (IDM) solutions to mid-market companies. For more than 25 years, Altec has provided a wide range of accounting-centric paper to paperless solutions including its flagship product, doc-link™ (Sage ERP Document Management), which enables companies to capture, archive, workflow and route structured and unstructured documents to customers, employees and vendors. Altec's comprehensive solutions include IDM, output management, MICR check disbursement and paper documents that serve more than 13,000 customers worldwide. Altec enjoys strong, collaborative partnerships with ERP solution providers like Sage Software to provide the most comprehensive, integrated enterprise document management solution. Altec delivers its IDM solutions through a global network of authorized partners in more than 60 countries throughout the Americas, EMEA and Asia Pacific. Visit Altec at http://www.altec-inc.com or call April Blankenship at 1-800-997-9921.
About BAASS Business Solutions Inc.
BAASS is a full service technology firm with twenty-five years of industry experience. With a broad client portfolio, BAASS serves over 3,000 clients across North America and the Caribbean. With a past record of successful system implementations, BAASS has been recognized within the industry on numerous occasions. Recognitions include being ranked in Accounting World's Top 100 VARs, Accounting Technology Magazine's Pacesetters Award, two consecutive Business Partner of the Year awards from Sage Software Inc ., and nine consecutive Sage President's Circle awards for being a top performing Business Partner. With an experienced team of IT and business application and design consultants, BAASS offers a comprehensive range of services including needs assessment, management consulting, system design and configuration, software training and technical support in accounting, ERP, CRM, e-business, custom solutions, and specializes in Sage HRMS, Sage CRM, Sage 300 ERP, and Sage ERP X3 products.
# # #