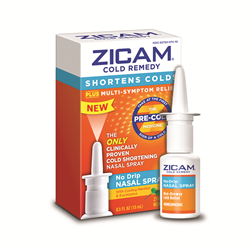 New York, NY (PRWEB) October 30, 2014
Matrixx Initiatives, parent of the Zicam Cold Remedy Brand, is moving away from the Upfront TV market, shifting most of its media dollars to programmatic buying.
As reported in the Wall Street Journal, Zicam moved a large part of its TV budget to hyper-targeted TV, taking advantage of the latest advances in programmatic buying. The Company quadrupled its digital budget, which will also be heavily programmatic.
Since Zicam sales peak with the otherwise unpredictable cold season, programmatic advances will provide much greater media efficiency to target ads where colds are striking.
"Our go-to-market strategy over the past 15 years or so has always been pretty standard: classically trained brand managers doing what they are trained to do," said M'Lou Arnett, CEO at Zicam parent Matrixx. "Now, we are trying to be much more responsive to the market and flexible. This is what a brand needs to do in 2014."