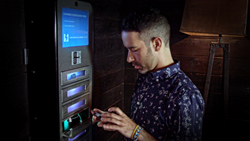 Our clients and guests love this amenity. It is a surprise and delight when they see it for the first time.
New York, NY (PRWEB) October 30, 2014
Brightbox, Inc. (http://www.brightboxcharge.com), the leading global platform provider of networked, safe and secure mobile charging, is pleased to announce the arrival of the new Brightbox® Mark3 mobile charging platform at Hilton San Francisco at Union Square, Hyatt Regency Scottsdale Resort and Spa at Gainey Ranch and YOTEL New York City.
The Brightbox charging stations are increasingly favored by the hospitality industry as much for their stylish looks and customized branding and messaging platform, as their proven charging speed and unrivaled security. They sport an elegant, clean profile along with a variety of color themes for units, branded panels, user interfaces and lighting that perfectly complement hotel brand aesthetics. In addition to the Hilton, Hyatt and YOTEL, Brightbox is keeping guests powered at Marriott, Sheraton, Omni, Dream, Caesars and MGM properties.
Placements of the Brightbox® Mark3 in lobby and other hotel spaces is helping the Hilton San Francisco, Hyatt Regency Scottsdale and YOTEL New York provide their guests with a safe and secure charging amenity that lets them continue to communicate, navigate, search, shop, share, eat, pay, play and relax, resting assured that their phones are being safely and optimally charged in a station that delivers both physical security and data privacy. The stations alleviate additional demands on hotel staff to help guests sort out where and how to charge their phones conveniently and eliminate any worries about physical theft or data intrusion.
Unlimited time charging sessions via the Brightbox amenity are offered for free or a nominal fee to hotel guests. Users simply swipe a credit card to open an available station chamber, plug in their mobile device, close the chamber and return later to swipe the same card to retrieve their charged phone.
"Brightbox charging stations are definitely one of the best amenities to have in a high profile hotel in this technology driven market," says Pejman Tristan Parvazi, Western Region Cluster Manager, Hilton Hotels and Resorts. "The combination of convenience, style, and user friendliness, topped with great support and not having to worry about all the security and liability issues, is what makes Brightbox awesome!"
"Our clients and guests love this amenity. It is a surprise and delight when they see it for the first time. We have 4 units installed and conveniently located in the pre-function area, adjacent to our ballrooms, where guests can easily and securely charge their phones without worry while attending meetings," says Jennifer Mueller, Senior Director of Engineering, Hyatt Regency Scottsdale Resort and Spa. "We love the streamlined look of the Brightbox charging stations as well as the ability to customize the screens to fit our property."
"There is nothing worse than being out on the town and having your phone die on you. Brightbox has been a great addition to our venues as it allows us to provide our guests with the ability to charge all types of phones while keeping them safe," says Brian Morrison, Nightlife Operations Manager, Dream Downtown in New York City. "Brightbox is quick, easy and convenient."
The Brightbox® Mark3 features a 10" interactive touch screen, customizable swipe cards and a strong brand-messaging platform. The UL and agency certified stations are Payment Card Industry (PCI) compliant, employ best-in-class end-to-end encryption to ensure the data integrity of phones being charged, and meet the highest standards for security and safety. They offer retractable charging cables and larger chambers that can accommodate nearly any mobile device, including the latest phablets, while delivering the safest and fastest charge possible at optimized manufacturer recommended rates.
About Brightbox
Brightbox® is a New York City based end-to-end technology solutions company providing venues and users with best-in-class mobile device charging services and a robust platform for marketing, sponsorship and venue interaction. Founded in 2011, Brightbox delivers advanced and innovative charging solutions and has deployed its secure charging lockers in 3 countries and 17 states in a variety of event and vertical markets that include hospitality, entertainment, healthcare, retail, education, transport and beyond.
Enterprise customers include Marriott, Hilton, Hyatt, Sheraton, Caesars, MGM, Heineken, Tampa Bay Rays, Baystate Health, Orlando Health and British Airways. Event customers include AOL, AdWeek, American Airlines, BBC Comic Con, CEDIA, Discovery Channel, Detroit Grand Prix, Event Tech, IBM, IMEX, Inc. 500/5000, New York Fashion Week, New York Times Travel Show. Other. Learn more at http://www.brightboxcharge.com @brightboxcharge