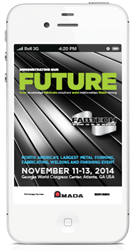 Attendees will not miss a beat with real-time conference and expo announcements and updates.
Columbia, MD (PRWEB) October 30, 2014
a2z, Inc. is pleased to announce that FABTECH will offer a suite of ChirpE solutions, powered by a2z, as effective planning tools for attendees and exhibitors of FABTECH 2014 – North America's largest metal forming, fabricating, welding and finishing event. This year's event will take place November 11-13, 2014 in Atlanta, GA. The ChirpE solutions that will be made available include the eBooth Promotion Widget and the Native Mobile Event App.
The ChirpE eBooth Promotion Widget offers exhibitors of FABTECH 2014 an online tool for engaging clients and prospects before the expo starts. Exhibitors simply add the promotion widget to their website and attendees instantly have easy access to company information, the event website, registration website and the company's eBooth information. The eBooth Promotion Widget allows exhibitors to easily collect valuable pre-show leads, leading to an increase in their event ROI. Exhibitors can access their specific widget from the FABTECH 2014 exhibitor dashboard.
In addition, FABTECH is utilizing the ChirpE Mobile App Solution to enhance the attendee experience. The native mobile app offers attendees many features designed to help them be more efficient while at FABTECH 2014. Attendees can search for exhibitors by keywords or product categories, use the planner to keep track of their meetings, and use the Walking Map to guide them through the exhibit floor. Attendees will not miss a beat with real-time conference and expo announcements and updates. The FABTECH 2014 mobile app is available for iOS and Android devices as well as all internet-enabled smart phones.
FABTECH 2014 is a three-day event providing a convenient one-stop shop venue where attendees can meet with world-class suppliers, see the latest industry products and developments, and find the tools to improve productivity, increase profits and discover new solutions to all of your metal forming, fabricating, welding and finishing needs. To learn more about FABTECH 2014, please visit http://www.fabtechexpo.com/.
About a2z
a2z, Inc. provides powerful web-based event management tools that grow your show by increasing and accelerating booth sales, helping boost revenue, and enhancing engagement and value for everyone. a2z, Inc. powers more than 850 leading events every year. Our clients benefit from increased connectivity with their audience via an improved website for their attendees and exhibitors and both web-based and native mobile app solutions. a2z offers three platforms as one integrated solution: Expo & Conference Management, Networking & Lead Management, and ChirpE Mobile- which includes our web-based and native mobile apps for smart phone and tablet device.
About FABTECH
The five FABTECH co-sponsors represent a wide variety of expertise and include: the American Welding Society (AWS), the Fabricators & Manufacturers Association, International (FMA), the Precision Metalforming Association (PMA), the Chemical Coaters Association International (CCAI) and SME. Together, these associations bring unmatched technical proficiency and industry insight to the FABTECH exposition.