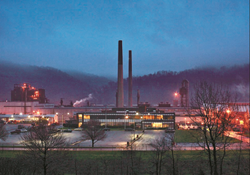 Hannibal, Ohio (PRWEB) October 30, 2014
NIAGARA Worldwide LLC for Hannibal Development Partners is thrilled with the work performed by RABIN, CRG and PPL Auction to prepare for one of this year's largest auctions set for viewing Saturday November 1st, 2nd and 3rd, with all live and online sales to commence November 4th, 5th, 6th and 7th. The 4-day auction in Hannibal, Ohio includes over 300 pieces of rolling stock, more than 100 transformers feeding 25 million lbs. of aluminum buss duct and thousands of: tools, service items, equipment and computer items.
"With 2.5 million square feet of plant equipment, Hannibal Development Partners had to bring in several of the largest auction companies in the nation. Rabin Worldwide, Capital Recovery Group and PPL Auction have proven to be a tremendous asset in organizing, lotting and preparing for such an enormous event," says Eric J Spirtas, "these auction specialists have cut the time to take this equipment to market, which ultimately allows for rapid deployment of the site grounds and buildings to national oil field service contractors and international energy groups that can best use the area as a newly formed Port, 'Center Port Terminal.'" A full list of auction assets are available online at rabin.com.
The regional shale oil and gas industry boom that lies below and around the site requires: laydown area, buildings and incidental businesses to support the nation's largest hydraulic fracturing operations. The 1,700 acre plant site will support: frac sand, limestone, guar gum, hydrochloric acid and water services, as well as pipe and various other businesses that feed off of this essential industry. Spirtas already has committed to move and store millions of tons of essential material through its port operations, which will remain in service at the plant. A massive pneumatic loading and unloading system, along with train dump rail structures and miles of conveyor, will support a 50 barge dock & slip as well as the 12 miles of site owned railway.
NIAGARA Worldwide LLC continues to focus on its 13 other current developments across the United States and Europe. NIAGARA Worldwide LLC is re-purposing Manufacturing Facilities, Chemical Plants, Various Mills, BioFuels and Biomass Power Plants, as well as managing over 2 million square feet of warehouse and office space. NIAGARA Worldwide LLC acquires, manages, markets and sells for final disposition idle industrial property and assets around the world for its own account and for the benefit of other international companies.
To learn more, visit: Eric J Spirtas, President – Niagara Worldwide LLC – http://www.niagaraworldwide.com
Direct +1.314.780.3742 – eric(dot)spirtas(at)niagaraworldwide(dot)com