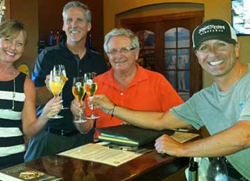 the Renzoni's are leaders here in our valley...we hope it is the first winery of many to go solar
Temecula, CA (PRWEB) October 30, 2014
The Renzoni family recently completed the construction of their new tasting facility in the Southwest Riverside County agricultural area, known as the Temecula Wine Country, home to 40 wineries. Transitioning most of their electric usage to solar power was an early-stage plan, as was implementing a state-of-the-art water harvesting system, which is already operational. These efforts are making Robert Renzoni Winery the area's leader in conservation, sustainability and fiscal responsibility.
While the Renzoni family, fourth-generation winemakers, is conscious of the benefits and goodwill of sustainability, financial considerations drove the timing on their decision to go green this year. "We are going solar now to blunt the ever-rising cost of commercial electricity," said Fred Renzoni. "The latest news we received from SoCal Edison is that they will make effective January 1st, 2015, a utility rate based on time of usage. So, if you want to get the cheapest rates, you need to be open at 3am."
Utilizing solar for one's power in California, on the other hand, plays directly into the hand of the Time of Use rate. It allows property owners to make their own power, at a reduced cost, during the time they would have traditionally been paying the most for it. Ambassador Energy was able to articulate this and other benefits, winning the flagship installation in Temecula Wine Country. Said Fred, "We chose Ambassador because they were the most knowledgeable presenters and their pricing was competitive. They have also demonstrated great follow-up since we signed the contract."
Ambassador Energy committed to deploying their best team for the Renzoni solar installation. The team is primarily comprised of United States military veterans, who were solar-trained by their education arm, Ambassador Energy College and the 501(c)(3) non-profit, The Veteran Asset.
"The Renzoni's are leaders here in our valley," said Kelly Smith, president of Ambassador Energy, "and, I think a lot of people are waiting to see how it goes. I started this dance with Fred more than two years ago, and am very proud to be a part of this first significant solar deployment in Temecula Wine Country. We are confident that Robert Renzoni Winery will be a shining example of solar, saving money and being good stewards of this amazing agricultural land. We hope it is the first winery of many to go solar! "
About Robert Renzoni Vineyards and Winery
The history of winemaking in the Renzoni family dates to 1886, when Robert's great grandfather Federico began working in the vineyards near Fano, a small Italian village on the shores of the Adriatic Sea. Today, they serve their wines along the DePortola Wine Trail in their Tuscan-inspired view-rich winery and tasting room in the heart of the Temecula Wine Country.
About Ambassador Energy (AE)
AE is comprised of Ambassador Energy College Solar Training, the Ambassador Energy Agency Program and the installation arms, Ambassador Energy and Ambassador Solar. On staff are NABCEP Certified PV Installers, NABCEP Certified PV Technical Sales professionals [Fulgham/Kelso] and multiple NABCEP EL graduates. AE holds California licenses General Contractor B, C10 Electrician and C46 Renewable Energy. Ambassador Energy is IREC accredited. AE Agencies are nationwide. Ambassador Energy installs residential and commercial PV systems throughout California and the US.