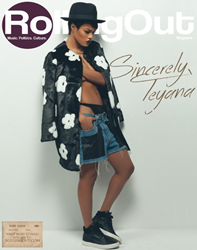 Creating a great body of work is always the hardest part.
Atlanta, GA (PRWEB) November 06, 2014
This is Teyana Taylor's first time, but it seems as if she has been here forever. She will finally release her debut album, 'VII,' but there is nothing that would suggest that Taylor is a rookie in the entertainment industry.
It was obvious while on the set of our cover shoot in Brooklyn, New York. Taylor seeks to maintain control over every aspect of her signature image, which shifts from tomboy chic to bold and sexy.
In fact, her keen sense of style was vital in keeping her in the public's eye as she figured out her identity in music. Taylor became a staple within the urban blog community, which often fawned over her elaborate sneaker game or bodacious bikini body.
But captivating images on blogs and thousands of "likes" on Instagram will never lead to longevity.
Indeed, it was time for her to prove she wasn't just another socialite who was famous for being famous. Through her music, she needed to showcase the talent that garnered a cosign from legendary artists Pharrell Williams and Kanye West.
Seven years after Taylor signed her initial deal with Williams' Star Trek label, she gets a chance to make a mark with a major label project. Backed by West's G.O.O.D Music and Def Jam, 'VII' is her reintroduction.
Meet 23-year-old New York native Teyana Taylor.
Taylor speaks to rolling out's music editor Amir Shaw about her struggles of getting an album released. "There was never an easy part," she says. "Creating a great body of work is always the hardest part, but the easy part about it is the love for it and being passionate about it. But everything is difficult. Everything is blood, sweat and tears. You're going to smile, you're going to cry, you're going to be happy and mad, you're going to feel like you want to throw something, you're going to feel like you want to hug everybody that walks by you. So it's like a bittersweet situation."
She adds, "Pharrell and Kanye are perfectionists and that's all they surround themselves with and that's all they know."
Visit rollingout.com to read the interview in its entirety. Be sure to check out the exclusive photo shoot and video footage with celebrity photographer DeWayne Rogers.
About Rolling Out Magazine:
Rolling Out, the nation's largest free urban weekly, is a digital and print magazine that focuses on the black experience in response to entertainment, politics, fashion, culture, sports and lifestyle points of interest. Headquartered in Atlanta, rolling out is positioned as the voice for the African American experience, using its newspaper as a platform in the marketplace to express urgency for education reform, and to document entrepreneurial endeavors and other relevant issues in the Diaspora. For information on rolling out, please log on to rollingout.com.