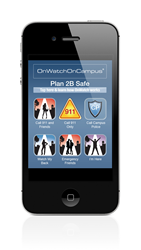 When you download OnWatchOnCampus® you have 3 simple solutions for "Halloween Safety".
Los Angeles, Ca. (PRWEB) October 30, 2014
Jill Campbell, CEO and Founder of Safety Alert Apps, Inc., the White House award-winning Smartphone Safety App technology development company, announced 3 simple tips for all age groups that are available on their White House Award Winning Safety Alert Apps smartphone product, OnWatchOnCampus®.
In making the announcement, Campbell said, "Of course the experience of "trick or treating" is very different than it used to be. Technology has given us access to the addresses of sexual offenders living in our neighborhoods, and social media can spread tragic stories in an instant."
She continued, "At Safety Alert Apps, Inc., we are pleased to be able to give 3 simple safety solutions that provide "Halloween Security" in the palm of your hand when you download OnWatchOnCampus®. With this app, two taps on your phone connects you to Emergency Services and simultaneously sends out text and email alerts with you GPS location to your preselected "First responders" – your friends and family."
Campbell added, "You can also make the "trick or treating" experience safer by using our flashlight and alarm sounds to alert drivers and draw attention to yourself if you need help. And our "I've Arrived" text only feature gives your GPS location to those you contact, letting them know you are safe and sound."
OnWatchOnCampus® won the White House Apps Against Abuse Technology Challenge. The app was launched from the White House in April 2012.
Safety Alert Apps turn a smartphone into a fully customizable multi-tasking emergency tool that immediately communicates critical incident information, in real time. The user is on the phone with 911/security team, campus police and friends while simultaneously preselected text and email alerts are sent with GPS location to multiple layers of first responders during the first seconds of any emergency. Safety Alert Apps, Inc., is a leading provider of Smartphone Safety Alert Applications, producing safety apps for the consumer and institutional markets.
To find out more about the company and all their products, visit http://www.SafetyAlertApps.com.