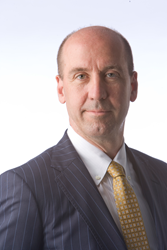 What will the future look like? Predictably unpredictable.
New York, NY (PRWEB) October 30, 2014
Acclaimed global futurist, speaker, and best-selling author Jack Uldrich is frequently asked, "What will the future look like?" His response is, "Predictably unpredictable." Uldrich travels the world speaking about this very paradox. He says, "Learning to unlearn, thinking about the unthinkable, recognizing failure as a key component of success, and understanding that an awareness of one's ignorance is a key component of true wisdom."
Following on the heels of a tremendously busy October, speaking to over 10 clients including ABB/Thomas and Betts, the American Sportfishing Association, the PMA and TRUNO, Uldrich will gear up to speak throughout the month of November to the following clients:
NOV 04, 2014 - Grant Thornton
Grant Thornton • Houston, TX
NOV 05, 2014 - Farm Credit Services Leaders Conference
Farm Credit Services of America • Omaha, NE
NOV 06, 2014 - CLEAResult Annual Energy Summit
CLEAResult • Austin, TX
NOV 10, 2014 - CAS Centennial Celebration
CAS Centennial News • New York City, NY
NOV 23, 2014 - AASHTO Annual Meeting
American Association of State Highway and Transportation Officials • Charlotte, NC
Uldrich focuses on giving upbeat, practical and actionable insights on future trends, emerging technologies, innovation, change management and leadership, especially in the areas of health care, agriculture, education, energy, finance, retail and manufacturing. He provides provocative new perspectives on competitive advantage, change management and transformational leadership and brings to light the advantages of being creative and using the powers of individual imagination.
In addition to speaking on future trends, one of Uldrich's key specialties is unlearning. He says,"Erroneous ideas can prevent us from being receptive to new knowledge. But before we can fully assimilate new information, we often have to unlearn old beliefs." Unlearning is defined as, "the act of releasing old knowledge." And, according to Uldrich, it is a critical skill, "especially in today's world of rapid and accelerating technical knowledge. If you think of knowledge as an iceberg, the portion of the iceberg that lies above the water can be thought of as representing existing knowledge. The portion that resides below the water is the equivalent of future knowledge. People often overlook obvious trends that will have an impact on their businesses. Unless that is, they are open to unlearning." In other words, Uldrich guides his audiences to look at what resides below the water line, teaches them how to swim with the current and prepare for tsunamis.
Parties interested in learning more about Jack Uldrich, his books, his daily blog or his speaking availability, are encouraged to visit his website. Media wishing to know more about these events or interviewing Jack as a futurist or trend expert can contact Amy Tomczyk at (651) 343.0660.