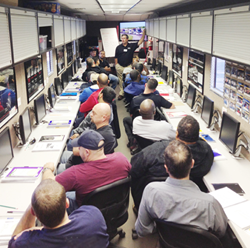 Celebration, FL (PRWEB) October 31, 2014
Florida MEP (FLMEP) is a not-for-profit organization that provides training and assistance to manufacturers in transforming their businesses into high-performing globally competitive enterprises via improved efficiency, elimination of waste, integration into global supply chains and customized workforce training.
After undergoing a Lean transformation itself a year ago, the non-profit training organization Florida MEP is now offering Lean training to all types of businesses, including service organizations, hospitals and medical offices, and government agencies.
Numerous manufacturing companies have benefited from customized training and Lean programs offered by the Florida MEP, especially during the economic recovery of the past few years. Successful firms recognize that economic slowdowns can present hidden opportunities for growth. By working with Florida MEP, companies across the state have become more competitive by improving production efficiencies, identifying new markets and increasing worker productivity. The results are measurable bottom-line impacts.
Global pressures and increasing customer demands require businesses to operate at increasing levels of competency. In order to compete on a global level, companies in all industries must focus on lowering costs by identifying and eliminating waste, increasing throughput, improving lead times, improving quality and efficiency, and maximizing customer satisfaction.
A Lean Enterprise is a totally integrated business process focusing primarily on eliminating waste in all processes and providing value to the downstream customer. Lean brings about radical change and provides a system of continuous process improvement and immediate impact to the bottom line.
The benefits of the process of Lean transformation include improved productivity by 25% to 50%, reduced space by 50%, improved product quality and reliability, reduced lead times, improved on-time shipments, reduced unscheduled downtime, and improved cash flow. Learn more about Lean here.
Utilizing continuous improvement tools such as Value Stream Mapping and Kaizen Rapid Improvement which focuses on streamlining production processes to maximize operational throughput, Florida MEP clients have demonstrated remarkable results. Read client success stories here.
Florida MEP works with companies of all sizes in all industries to deliver customized performance-based training and strategic solutions. Is your organization ready to begin implementing Lean? Florida MEP experts can provide a Lean Assessment or training in any of these subjects:

Lean Simulation Workshop
Value Stream Mapping
Kaizen
6 S
Materials, Labor and Overhead for Profitability
Team Building & Problem Solving
Supervisory Training
Government Contracting
Shop Math
Blueprint Reading
Metrology
Disaster & Business Continuity Planning
Begin your company's Lean journey today by contacting Phyllis Morese at phyllism(at)floridamep(dot)org or call 321-939-4000. For more information on FLMEP programs and services, visit http://www.floridamep.org.
About FLMEP
The Florida MEP (FLMEP) is a not-for-profit organization that provides training and assistance to businesses to help them identify and implement advanced technologies to enable them to grow and compete in the global market. FLMEP assists manufacturers and businesses by providing access to technology for improved productivity, offering workforce training in Lean manufacturing, Kaizen, VSM, ISO certification, ITAR compliance, exporting logistics and supply chain integration. Through FLMEP programs, many funded by grants, companies learn tactics to innovate, save money, implement more efficient management strategies and lean methodologies, resulting in immediate bottom-line impact. Visit the Florida MEP website at http://www.floridamep.org or call 321-939-4000.