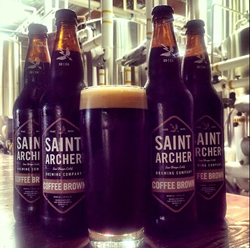 We combined forces with St. Archer since we have the same commitment to quality and ingredients and we love supporting the artisan crafts in San Diego.
La Jolla, Calif. (PRWEB) October 30, 2014
Today, specialty coffee retailer, Bird Rock Coffee Roasters and craft brewery, Saint Archer Brewing Company announced the launch of their coffee-infused bottled beer, which will be available while supplies last.
The third-wave coffee and craft beer movements have been gaining popularity for the past few years, and both Bird Rock Coffee Roasters and Saint Archers Brewery are celebrating the complex flavors of craft beer and coffee by combining the two for an intricate and unique taste.
"Our Coffee Brown Ale gets its back bone from using Maris Otter as the base, then a triad of chocolate and crystal malts which impart smooth and rich malt character," says Yiga Miyashiro, director of brewery operations at St. Archer Brewery. "We chose to collaborate with a local award-winning roaster, Bird Rock Coffee Roasters, and we infused a special blend of their coffees using a cold-extraction method. Bird Rock Coffee Roasters is the right partner not only for their amazing coffee, but also for their sustainable sourcing practices through direct trade with the farmers."
The partnership between Bird Rock and Saint Archer began last fall when they debuted four coffee-infused beer varieties on tap at the Saint Archer Brewery in Mira Mesa, and due to the popularity have decided to bottle the best-selling brew for distribution.
"We chose a coffee blend to combine with the ale brewing process that is made up of our direct trade coffee from El Salvador, the Los Luchadores Pacamara and a dry-processed coffee we sourced during our last trip to Ethiopia, the Ethiopia Boke," says Chuck Patton, owner of Bird Rock Coffee Roasters. "We combined forces with St. Archer since we have the same commitment to quality and ingredients and we love supporting the artisan crafts in San Diego."
The Coffee Brown Ale will be available in 22 ounce bottles for an average retail price of $4.99 each, and will also be available on draft throughout Southern California and at Saint Archer Brewing Company, located at 9550 Distribution Ave., San Diego, CA 92121.
About Bird Rock Coffee Roasters
Recognized as Roaster of the Year in 2012, a national once-in-a-lifetime award, Bird Rock Coffee Roasters (BRCR) is proud to have put premiere coffee on the map in San Diego. A regular contributor to the international coffee industry, a consistent winner of multiple awards above the score of 90 from Coffee Review and with a Q-Grader certified roaster on site, the Bird Rock Coffee Roaster's staff is sought after throughout the world for their coffee expertise. Going beyond the perfect latte, Bird Rock Coffee Roasters has the top quality Roaster on site, a pour-over bar featuring the top seasonal varietals, weekly cuppings open to the public for a sneak peak into the newest offerings, and a deep dive into the selection process and all things coffee. Bird Rock Coffee Roasters goes beyond the confines of the fair trade structure and engages in direct trade with farmers, and is proud to serve the best green coffee, prepared with the utmost respect to those who grew it. Bird Rock Coffee Roasters is located in La Jolla, CA. For more information, please visit http://www.birdrockcoffee.com
About Saint Archer Brewing Company
Saint Archer Brewing Company was founded on a unique strain of creative talent: World-class brewers. Artists and musicians. Surfers, skateboarders, and snowboarders… All coming together with passion and commitment to express our collective true love — handcrafted beer. Saint Archer's been a long time in the tank and we hope you taste our appreciation and gratitude in every sip.
###