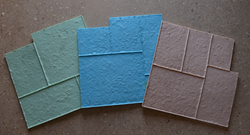 Morris, ILLINOIS (PRWEB) October 30, 2014
In the world of concrete stamps, no stamp is as popular as the timeless Ashler slate. It can be described as different sized slate tiles placed in an random pattern providing a pleasing look, great for both indoor and outdoor concrete, commercial or residential. In an effort to continually provide the decorative concrete marketplace more options, Walttools has created a fresh version of this classic pattern. The Old World Ashler is the same familiar random sized tile pattern but utilizes hand chiseled weathered limestone instead of traditional slate. This creates a completely unique look for the customer without the need for the contractor to spend time learning how to use a new pattern tool.
This new concrete stamp pattern is designed for use any place a slate Ashler might be used but is desiring a unique look.
Walttools is a premier manufacturer of Decorative Concrete Supplies and a leader in the Decorative vertical concrete arena. Their products have been used in over 30 countries. The product lines include Tru Impressions stamps and texture tools, the Tru Tex vertical concrete line, Tru Tint stains, and the ultra-versatile Tru Pac line of specialty ad pacs.