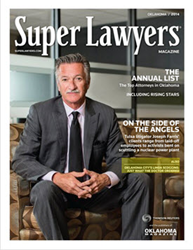 Eagan, MN (PRWEB) October 31, 2014
Super Lawyers, a part of Thomson Reuters lawyer rating service, has announced the Oklahoma Super Lawyers list for 2014. In April 2013, the Super Lawyers selection process received a patent (U.S. Pat. No. 8,412,564) from The United States Patent and Trademark Office. This distinction is relevant to both attorneys and consumers, as it further demonstrates credibility as an impartial third-party rating system.
Super Lawyers has been recognizing the top lawyers in Oklahoma since 2006. The list is published annually in Oklahoma Super Lawyers Magazine to target referring attorneys, and special sections are also included in Oklahoma Magazine to reach consumers seeking exceptional legal representation.
The 2014 Oklahoma Super Lawyers Magazine features Tulsa litigator Joseph Ferris on the front cover. The editorial piece covers his career representing clients ranging from laid-off employees to activists bent on scuttling a nuclear power plant.
Ferris is one of Oklahoma's top divorce attorneys, often representing high-net-worth clients. Once, he received a case of fine wine in additions to his hourly fee.
"I would hate to be a one-dimensional lawyer," says Ferris, sitting in his office overlooking downtown Tulsa. "I love the variety of cases I do. It keeps things interesting."
Those seeking top-rated lawyers online can visit http://www.SuperLawyers.com for one of the web's most trusted online directories. Read the digital edition of the 2014 Oklahoma Super Lawyers Magazine or view the 2014 Oklahoma Top Lists.
Super Lawyers
Super Lawyers, a part of Thomson Reuters is a research-driven, peer influenced rating service of outstanding lawyers who have attained a high degree of peer recognition and professional achievement. The mission of Super Lawyers is to bring visibility to those attorneys who exhibit excellence in practice.