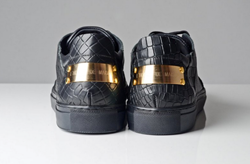 Los Angeles, CA (PRWEB) October 30, 2014
L'Homme De Maison officially launches in the United States now. All over the world, the brand has been turning heads, and it's slowly infiltrated the North American market. However, it's on its way to becoming a luxury footwear trend-setter stateside with its latest line.
A vision between Dutch designer Brian Nickson and iconic soccer players Leon Best and Colin Kazim Richards, L'Homme De Maison brings classy panache and stunning high-end style to the sneaker world. These striking, yet elegant pieces have already been proudly worn by everyone from hip-hop titan Rick Ross and R&B crooner Jeremih to pop star Nick Jonas and platinum-selling rapper Fabolous.
As far as the shoes themselves are concerned, the brand merges an innovative articulation of classic trends with stylistic futurism. Whether it's a chic and slick high-top punctuated by eye-catching colors or comfortable low cut shoes evoking understated rustic tones, these shoes capture each individual wearer's personality. Simply put, they've got something for you to make a shoe statement with.
This month, the luxury men's footwear leader will take over a chic hotspot to introduce L.A. elite to selections from its latest collection. The evening will be fueled by a soundtrack of exclusive tracks from DJ Earry Hall, who's set to spin selections from his EARRY X L'HOMME DE MAISON mix for the duration of the evening.
L'Homme De Maison sneakers currently retail from $400-$505 with free shipping worldwide. The brand will also be launching a full collection of footwear for women and kids in January 2015. For more information on L'Homme De Maison, please visit http://www.lhommedemaison.com.
###
About L'Homme De Maison
L'Homme De Maison is a luxury men's footwear brand envisioned by the collective of noted Dutch designer Brian Nickerson and celebrated sportsmen Leon Best and Colin Kazim Richards. This collective's love of fashion and their interest in design were key factors in the decision to launch their own collection. They architected a shoe that could be worn everyday but that also wouldn't look out of place on a night out. Each pair of shoes is fashion forward, high quality, and produced using the best materials delivering the ultimate in comfort and fit.