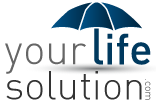 Chicago, IL (PRWEB) October 30, 2014
YourLifeSolution.com, a service which provides instant online life insurance quotes for both permanent and term coverage, is today outlining that it is likely for life insurance for the elderly to provide a positive return-on-investment at death. According to the service, in most all cases where an elderly person is relatively healthy, life insurance will have a much higher death benefit than the total of premiums paid in.
"According to the World Bank, the current life expectancy of an average American is age 76, but even if you live till age 80 or 85, you would almost definitely see a significant return-on-investment in your life insurance death benefit versus what you paid in total premiums. In most cases, even if a relatively healthy 70 year-old purchases permanent life insurance, their family will see a 50-200% return-on-investment due to the death benefit being greater than the total premiums paid. This information can be corroborated by viewing instant life insurance quotes on my website", said Eric Smith, the founder and independent life insurance agent of YourLifeSolution.com.
World Bank Statistics Can Be Viewed Here:
http://data.worldbank.org/indicator/SP.DYN.LE00.MA.IN
YourLifeSolution.com invites all adults to view their own life insurance rates online within the site's homepage. Consumers can also get information by phone directly from Eric Smith by dialing 888.374.2764.