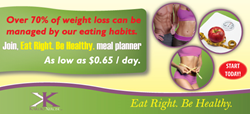 Whether you're trying to lose weight or simply change your eating habits to improve your health, the key to achieving your desired result is consistency
Rockford, IL (PRWEB) October 30, 2014
With the holiday season fast approaching, schedules will soon be packed with family gatherings, work parties and other holiday celebrations. It's easy to let personal health and fitness goals fall to the wayside during this busy time of year. With the help of the "Eat Right. Be Healthy." Meal Planner from Kardio-Xercise™, staying on track and eating healthy throughout the holiday season has never been easier.
Kardio-Xercise, a premier lifestyle fitness brand, developed the "Eat Right. Be Healthy." Meal Planner with a single goal in mind – to give people who are committed to improving or maintaining their health an effective tool to accomplish their goals. The meal planner calculates the number of calories and types of nutrients a person requires on a daily basis to reach a desired health or weight goal. This effective and easy-to-use online tool, offered exclusively by Kardio-Xercise, provides a myriad of benefits, including:

Personalize your meal planner based on individual health goals
Create a customized meal plan each week that is filled with mouth-watering recipes
Choose from hundreds of recipes that are easy to prepare, taste great and suitable for the entire family
Shopping list is auto-generated based on a customized meal plan for no-hassle grocery shopping
Quickly and easily track progress
Receive motivation and helpful tips from the Kardio-Xercise team to help you reach your goals!
"Whether you're trying to lose weight or simply change your eating habits to improve your health, the key to achieving your desired result is consistency," said Oscar G. Castillo, CEO and Founder of KX Evolution, Inc., creator of the fitness brand Kardio-Xercise. "Our Eat Right. Be Healthy. Meal Planner not only provides you with a nutritional plan that is specifically tailored to your needs, it also provides the support you need to accomplish your goals. Plus, the team behind Kardio-Xercise monitors your progress and provides you with encouragement, and the occasional kick in the butt you may need to reach a variety of milestones along your path to a healthier lifestyle."
The "Eat Right. Be Healthy." Meal Planner is available in a variety of options to suite the needs of individuals working to achieve a full spectrum of health-related goals. Customers can choose from the following options:

Month-by-Month Membership: $30/month
3-Month Membership: $25/month (savings of $15)
6-Month Membership: $20/month (savings of $60)
Simply visit Kardio-Xercise's website to purchase a membership for the "Eat Right. Be Healthy." Meal Planner or for more information about the various meal planner options.
Kardio-Xercise is also offering an "Eat Right. Be Healthy." Meal Calendar to supplement its Meal Planner. The calendar features healthy recipes for breakfast, lunch, dinner and even desserts! It does not promote diets; rather, it aims to provide information for making healthy decisions and eating right. The creative design of the "Eat Right. Be Healthy." Calendar allows for all 48 recipes to be cut out so they can be saved in a 3"X 5" recipe box for future use.
The "Eat Right. Be Healthy" Calendar and KX Fitness Calendar are available for preorder via Kardio-Xercise's website. With delivery scheduled for early December, the calendars are a perfect holiday gift for anyone who is looking to track their fitness goals. Limited quantities are available and calendars are expected to sell out, so take advantage of the special pricing for the set of calendars during the preorder timeframe:

Set of two calendars – "Eat Right. Be Healthy" Meal Calendar and KX Fitness Calendar: $25 (plus $3 for shipping/handling)
"Eat Right. Be Healthy" Meal Calendar: $15 (plus $2.50 for shipping/handling)
KX Fitness Calendar: $15 (plus $2.50 for shipping/handling)
About Kardio-Xercise™
Kardio-Xercise™ is a multi-faceted fitness brand that was established on the principle that the human body needs attention in order to be at its best. From its high-quality fitness apparel and accessories to its online meal planner and interactive Blog, Kardio-Xercise provides a variety of resources for individuals who are committed to improving or maintaining the health and strength of their bodies through fitness and nutrition. Furthering its mission to create a fitness movement, Kardio-Xercise donates proceeds from its online sales to organizations that are making a difference in people's lives through fitness. Kardio-Xercise is more than a fitness brand. It's a lifestyle. It's pure passion. Kardio-Xercise, A Fitness Movement, The logo "K" with half "X" are all registered trademarks of KX Evolution, Inc. For more information about Kardio-Xercise, to purchase apparel or to access the online meal planner, visit http://kardioxercise.com.
Media Contact:
Oscar G. Castillo, CEO and Founder of KX Evolution, Inc., creator of the fitness brand Kardio-Xercise, (815) 575-9386, info(at)kardioxercise(dot)com