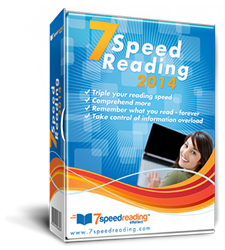 People gather together or work on their own in creating something new, groundbreaking, or creative during the 20% creative time.
New York City, NY (PRWEB) November 01, 2014
7 Speed Reading™ software and its designer, eReflect, find Google's 20% Time Policy a worthwhile concept more companies should implement in order to boost their employees' productivity, creativity, and happiness in the workplace.
The developer of the best speed reading software reveals that the 80-20 rule for time use has a wide array of corporate, financial, social, personal and psychological benefits for employees who feel they have more control over their time and ideas. By extension, happier employees mean happier and more successful companies.
When employees know that after their Friday lunch their remaining time is free to work creatively on an idea that they are intrigued by, it can spur some innovative ideas to come to life. This has been proven by several companies who apply the creative time policy. Sometimes this free time is as much as 20%, as is the case with Google, but for most other companies it's less. However, the idea remains the same. As eReflect points out, "People gather together or work on their own in creating something new, groundbreaking, or creative during the 20% creative time. It could be a special day every month, a few hours on a Friday morning, or half an hour each Tuesday. Giving people full control over a project excites them and makes them more likely to come up with ingenious solutions and new ideas."
Even if a company doesn't implement the 80-20 time rule, there are other ways people can use 20% of their time to work on self-development. Most people can spare 2 to 4 hours a day for self-growth, skill honing, and creativity outbursts.
Instead of using this time to socialize, play games at home, or pursue no-outcome pastimes, people can choose to creatively use some of their free time to read and learn, to sharpen their skills, to master new ones, and to engage in brainstorming sessions to find solutions and groundbreaking ideas.
As the developer of a program that helps people learn more by learning to speed read, eReflect urges people to consider implementing the 80-20 rule in their personal lives and see how much their lives will improve.
************
For more information about the benefits of using 7 Speed Reading, please visit the official website at http://www.7speedreading.com.
About 7 Speed Reading™
7 Speed Reading is the only modern speed reading software that uses the latest technology to produce superior results.
The software provides its users with a new way to master speed reading that guarantees three times the reading speed along with improved memory and comprehension.
The software is poised as the most comprehensive speed reading system anywhere. It contains seven learning strategies, fifteen software activities, video training, advanced tracking capabilities and many more exciting features.