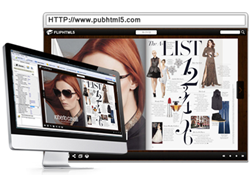 (PRWEB) October 31, 2014
PUB HTML5 is a leading software supplier that provides HTML5 online digital publishing software to users to convert printable material into extraordinary digital publication. In order to motivate effectiveness for business, PUB HTML5 now releases an HTML5 online report publishing software, which was developed to help them to enhance the attractiveness and practicability of annual reports.
The digital annual report creator from pubhtml5.com makes creating an annual report a simple assignment for enterprises and associations. PUB HTML5 is an advanced annual report creator; it converts PDF material into an astounding modernized form. A report made through this product can be effectively understood, giving the full details of any business. The report can be opened on a desktop, iPad, cell and iPhone.
PUB HTML5 is one of the best available software options that meet distinctive needs in business and many areas of life. Utilizing this product to make an advanced annual report has various advantages:

It saves time and it's easy to use. It can be accessed from all over the world. And the created report can be opened on all devices such as cellular telephones.
It saves the expense of paper materials. A digital version is also easy to modify and upgrade.
Additionally, the software provides analysis data of the digital annual report. One can know more about customers' habits without a hassle.
"Our creative desktop publishing software allows you to convey your content through tablets, cell phones, and online networking channels. The PUB HTML5 software is perfect to publish online magazines, brochures, ebooks, newspapers, pamphlets, reports, and flyers", said Jason Chen, CTO of PUB HTML5.
Check out the blog to learn about the "Top Reasons to Create HTML5 Digital Annual Reports".
According the review written by one of their clients, he said, "It is all-in-one digital publishing solution for all businesses, small businesses, non-profit organizations, and even individuals.
PUB HTML5 digita; publishing software helps customers to minimize expenses, achieve goal, and expand viability, while giving them a media-rich content reading experience. For more information contact http://pubhtml5.com/.