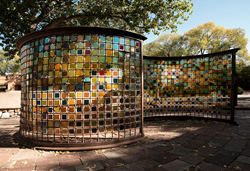 I hope to find a balance between structure and freedom that allows the students voices to come out.
Santa Fe, New Mexico (PRWEB) November 01, 2014
Pippin Contemporary is thrilled to announce that sculptor Greg Reiche has been named Honorary Artist for ARTsmart 2015. Every year, ARTsmart chooses a notable artist to work with high school students on creative art projects. Selected artists are distinguished not only in New Mexico but also throughout the world. Past Honorary Artists include Agnes Martin, Roxanne Swentzel, Tom Joyce, and Rebecca Tobey.
"It's a great honor," said Reiche. "I'm looking forward to working with young people and sharing in their creative energy." A native from New Mexico and current Santa Fe resident, Reiche has worked in a variety of mediums from ceramics to furniture design, but in the last twenty years has narrowed his artistic focus to sculpture. Reiche uses stone, metal and glass to create studio pieces along with monumental site-specific work that interacts with the surrounding environment. His sculptural wedges, arcs and circles, along with his kinetic glass pieces, have been commissioned for public and private installations across the country.
Reiche hopes that viewers of his sculpture find their own narrative in the work, and he is using the same philosophy as he prepares for the upcoming ARTsmart workshops. "I want to find a way to bring out the individual voice of each student," explains Reiche. "I hope to find a balance between structure and freedom that allows their voice to come out."
ARTsmart, founded in 1993 as a 501c3 nonprofit organization, fosters creative thinking and individuality in elementary and high school students through visual arts instruction and workshops. Students are given the opportunity to learn art history and vocabulary, watch techniques, do hands-on art making, participate in positive feedback critiques, and exhibit their own art. Since its creation, ARTsmart has invested more than $4,422,000 to subsidize these student art programs and provide art materials to New Mexico youth. Another $63,000 has been awarded as scholarship funds to high school seniors to pursue the visual arts in college.
"It's great what they're doing for these kids," said Reiche about ARTsmart's program. "I took art all through school and never got an opportunity like this." Reiche will work with students once a week from November to the end of January. The project culminates with "Step Up to the Plate," a gourmet dinner and auction honoring Reiche and the student artists. Attendees will have the opportunity to meet Reiche and bid on his newly created sculpture, one with a value of at least $10,000, as well as work by the students who participated in his workshops. Tickets can be purchased for this fundraising event through ARTsmart's website at http://artfeast.org/artfeast-events/winter-artfeast-art-of-living/step-up-to-the-plate.