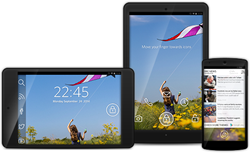 Start allows us to offer our customers a unique personalized experience that will help maintain brand loyalty.
(PRWEB) October 30, 2014
Celltick, a global leader in mobile initiated commerce, today announced its partnership with Intex Technologies, one of the fastest growing mobile phones and electronic product companies in India. Through this partnership, Intex will launch an innovative Android interface based on Celltick's 'Start' on its devices. Start, a next-generation intelligent Android interface layer, allows users to access what matters to them most from their start screen.
Intex phones will now have a custom interface for its users which will allow consumers to easily launch apps, get a quick view into their social media networks, access news, music services and multimedia. Start's recommendation engine learns and adapts the start screen based on big data technology and collaborative filtering to personalize the interface for the user based on how they use their device.
Other than inherently providing a unique way for users to simplify and better utilize their phone, Celltick Start allows Intex to engage in a continued relationship with their customers. Intex can now maintain their relationship with customers beyond the point of sale and continue to provide useful tips and money saving offers that enhances brand loyalty to the customer.
"Intex has always been a leader in introducing innovative products and services to its customers," said Mr. Sanjay Kalirona, Mobile Business Head, Intex. "We strive to provide easy to use technology products at the best value. With this new interface, we believe that our users will be able to better utilize their Intex device. Start allows us to offer our customers a unique personalized experience that will help maintain brand loyalty."
"We aim to provide users with a personalized intelligent experience that is best-in-class in the industry. We are proud to partner with Intex to be able to realize our vision and add value to millions of users in India," said Ronen Daniel, CEO of Celltick. "Users want their mobile device to be a reflection of who they are. We look forward to helping users personalize their Intex device and use it to the best of its capabilities."
The growing Start ecosystem has a variety of themes and plugins. With this partnership, Celltick continues to expand its reach and making Start a widely accepted intelligent interface for Android devices. In 2013, Celltick powered billions of mobile-initiated commerce transactions for virtual and physical goods serving more than 110 million active consumers across 25 countries
###
About Intex Technologies (India) Ltd.
Intex Technologies is a 18-year-old mobile phones, IT accessories and consumer durables company, headquartered in New Delhi. It has a pan-India presence with its own network of 30 branches and 800+ service points. Brand 'Intex' covers 5 business segments – Mobile Phones and Accessories, IT accessories, Consumer Durables, Retail and Enterprise Solutions. It has established a high credibility amongst its vast network of channel partners and several million satisfied end-users by offering high-quality and value-for-money products, supported by effective service and a consistent policy of transparent, fair and ethical dealings. Intex's manufacturing domain comprises of three manufacturing units belonging to the Group located in Jammu and Baddi.
Intex is ISO 9001:2008-certified and its all-India sales & service operations are managed on a world-class collaborative business platform - SAP. Over the past 12 years, the company's turnover has increased from Rs. 32 Crore in FY 2001-02 to more than Rs. 2000 Crore in FY 2013-14, growing at a CAGR of 34.5 percent over the last 5 years. For more information, visit http://www.intexmobile.in
About Celltick
Celltick is a global leader in mobile initiated commerce. Celltick's Start is a next generation personalized intelligent interface for Android devices. Celltick is unique in creating and managing mass market mobile marketing solutions for mobile operators, large media companies, device manufacturers and large brands. Celltick enables its partners to engage and monetize their users on the mobile. The company drives billions of transactions annually across more than 110 million active consumers across its different mobile platforms in over 25 countries. A rapidly growing company, Celltick has subsidiaries in Europe, Asia, South America and the U.S. For more information, visit http://www.celltick.com.
Press Contacts:
Celltick
Ramgopal Vidyanand/Shirit Flider
press(at)celltick(dot)com
Intex Technologies (India) Ltd.
Joyeeta Mitra
joyeeta(dot)mitra(at)intextechnologies(dot)com