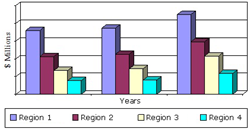 Global market for medical device technologies to reach $538.7 billion in 2018.
Wellesley, Mass. (PRWEB) October 30, 2014
BCC Research (http://www.bccresearch.com) reveals in its new report, MEDICAL DEVICES: TECHNOLOGIES AND GLOBAL MARKETS, the global market for medical device technologies is expected to reach $538.7 billion in 2018; registering a compound annual growth (CAGR) of 5.5% over the next five years.
The North American medical device technologies market is the largest globally, with revenues amounting to $187.6 billion for 2013. It is estimated to increase to $225.4 billion in 2018, growing at a CAGR of 3.7% from 2013 to 2018. However, CAGRs for the Asian market are anticipated to be higher at 8.5%.
Growth is foreseen in the developing countries of Asia for several reasons, including increases in government spending on healthcare, a growing number of medical procedures being covered by insurance companies, awareness among people about their healthcare needs, and a rise in disposable incomes.
"China and India are lucrative markets as they have populations of over a billion each and their economic growth rates are still positive despite the recent global downturn," says BCC Research healthcare analyst Vijay Laxmi. "Companies have not fully exploited these markets as they face problems of distribution, competition from low-cost products manufactured locally and their own inability to introduce products that meet patient needs in these countries."
Sustainable growth is possible with changing business models and innovative strategies to tap various markets. The trend of value-based pricing and purchase decisions is here to stay as healthcare providers in the mature markets of the U.S. and Europe grapple with cost containment.
MEDICAL DEVICES: TECHNOLOGIES AND GLOBAL MARKETS discusses the medical device technologies in terms of market share of major players, market growth and size, and opportunities for different devices and regions. The report includes forecasts for market trends and revenue through 2018. Major players, innovative products and technologies, trends and market dynamics, competitive intelligence, and geographic trends are well researched and analyzed in the report.
Editors and reporters who wish to speak with the analyst should contact Steven Cumming at steven(dot)cumming(at)bccresearch(dot)com.
About BCC Research
BCC Research publishes market research reports that make organizations worldwide more profitable with intelligence that drives smart business decisions. These reports cover today's major industrial and technology sectors, including emerging markets. For more than 40 years, we've helped customers identify new market opportunities with accurate and reliable data and insight, including market sizing, forecasting, industry overviews, and identification of significant trends and key competitors. We partner with analysts who are experts in specific areas of industry and technology, providing unbiased measurements and assessments of global markets. Our clients include the top companies in industries around the world as well as universities, business schools, start-ups, consulting firms and investment companies. BCC Research is a unit of Eli Research LLC. Visit our website at http://www.bccresearch.com. Contact us: (+1) 781-489-7301 (U.S. Eastern Time), or email information(at)bccresearch(dot)com.
Data and analysis extracted from this press release must be accompanied by a statement identifying BCC Research LLC, 49-2 Walnut Park, Wellesley, MA 02481, Telephone: (+1) 781-489-7301; Email: editor(at)bccresearch(dot)com as the source and publisher. Thank you.