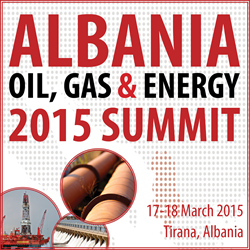 It's an IRN Summit!
London (PRWEB UK) 30 October 2014
Albania, one of the oldest and most consistent oil and gas producers in Europe, is now ready for the next licensing round with 13 available oil and gas Blocks to allocate. IRN and the Ministry of Energy and Industry of Albania have thus partnered to launch the inaugural senior level platform for discussions to take place on all new hydrocarbon developments in Albania; examining competitive licensing procedures, and the business opportunities that entail.
The Summit will gather high level delegation composed of Governmental Officials, senior level executives from national and international oil companies, major service providers, along with oil and gas experts to focus specifically on Albania's oil, gas and energy (renewables) industries.
About Albania:
Albania is very attractive in terms of hydrocarbons as it is one of Europe's largest onshore oil producing regions. The Patos-Marinza field, the largest onshore oil field in Europe, proves the country's potential as an oil and gas producer. Discovered in 1927, it reached peak production in the 60's and is still the largest onshore field in the continent, with 5.2 billion barrels of crude oil yet to be produced.
Albania also promotes favourable fiscal terms that have already triggered the interest of international oil companies. The country's National Gas Master Plan includes several projects for gas infrastructure and pipelines, creating multiple investment opportunities.
More information can be found on the website http://www.albaniasummit.com
The official hashtag of the forum is #AOGE2015.