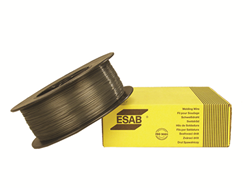 Florence, SC (PRWEB) October 30, 2014
ESAB Welding & Cutting Products introduces two new wires to its Dual Shield II Series of flux-cored welding consumables. The Dual Shield line offers the broadest variety of mild steel and low-alloy flux-cored wires available in the world. Dual Shield wires offer excellent welding performance in all positions with high deposition rates and efficiencies, dramatically reducing weld time and increasing productivity. Dual Shield wires are also easy to use and produce a weld bead with almost no ripple and very little spatter.
Dual Shield II 4130 SR is an all-position flux-cored wire for welding low-alloy, high-strength steels such as 4130. This welding wire is ideal for offshore oil and gas topsides and platforms requiring high corrosion resistance with stress-relieved high strength and low temperature impact toughness properties. ESAB's new Dual Shield II consumable offers mechanical properties in the as-welded and after PWHT conditions and meets ANSI/NACE MR0175/ISO 15156-1.
Dual Shield II 70-Ni1 H4 is designed for use under 75% Ar/25% CO2 gas protection. This flux-cored wire provides excellent low temperature toughness in both as-welded or stress-relieved conditions. Dual Shield II 70-Ni1 H4 produces low diffusible hydrogen levels – lower than 4ml/100g – over a wide range of welding parameters. The smooth arc, fast-freezing slag, low spatter levels and easy slag release make this an ideal wire for the welding of steel plate in all positions. With nickel content below 1% and Brinell hardness less than 200, this welding wire meets the requirements for applications where resistance to stress-corrosion cracking is required. It is best suited for the fabrication of storage vessels that need to be stress relieved to minimize the occurrence of stress corrosion cracking (SCC).
ESAB continues to set the standard in welding consumables product innovation with one of the most comprehensive lines of filler metals to suit a broad range of industry-specific welding applications. From solid wire, to covered electrodes, to fluxes and brazing products, ESAB welding consumables have a proven track record of excellence and superior quality.
ESAB Welding & Cutting Products is a recognized leader in the welding and cutting industry. From time-honored processes in welding and cutting to revolutionary technologies in mechanized cutting and automation, ESAB's welding consumables, equipment, and accessories bring solutions to customers around the globe. For more information, visit http://www.esabna.com or call 1-800-ESAB123.