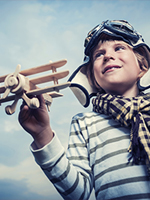 Richmond, VA (PRWEB) October 30, 2014
The Virginia Aviation Museum is gearing up for Just Plane Fun! on Saturday, November 8. This free event invites guests to let their curiosity take flight with vintage aircrafts, live music, aviation activities and more.
Uncover the latest advancements in drone technology, find out how to obtain your pilot's license from New Kent Aviation and enjoy a classic car show. Guests can get up-close with the Virginia Department of Aviation's Cessna 206 aircraft and learn more about the Civil Air Patrol's aerospace education, cadet programs and emergency services.
"This is an excellent opportunity to learn about over a century of aviation history while experiencing some of what modern aviation has to offer," says Edward Andrews, Operations Coordinator, Virginia Aviation Museum. "We are excited to invite the community to join us and hope to inspire then next generation of pilots and aviation technicians."
The Museum is soaring into physics, energy and flight with activities that include paper airplane competitions and face-painting. Aviation enthusiasts can assemble and launch a straw rocket toward a target and are challenged to build a vehicle that is solely powered by wind. Guests can also get creative by making kites and wind socks as they get hands-on with special aviation activities.
Just Plane Fun! will feature live performances by Rattlemouth, a Richmond-based world groove and ethio-jazz band, and hula-hooping demonstrations by the RVA Hoop Mafia. In addition to an eclectic assortment of entertainment and activities, the first 500 guests will receive a free gift and enjoy a day packed with the science of flight.
The Virginia Aviation Museum hosts over 38 historic vintage aircrafts, reproductions of the Wright brothers' famous gliders and expansive early flight memorabilia. Collection highlights include Admiral Richard E. Byrd's legendary Stars and Stripes, the first American research plane to fly over Antarctica; William Randolph Hearst's 1938 Vultee V1-A Special; and the plane Charles Lindbergh wanted to fly over the Atlantic, the Bellanca CH-400 Skyrocket.
Virginia Aviation Museum ● 5701 Huntsman Road ● Richmond, VA 23250 ● vam.smv.org