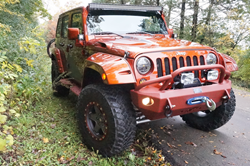 These are passionate people who know cool gear when they see it, and appreciate products that hold-up under extreme use.
Lindenhurst, Illinois (PRWEB) October 31, 2014
What would you do, if someone asked your advice on how to create a vehicle that would support a weekend full of mountain biking action? How big would the tires be? What would the interior look like? Would it need an upgraded sound system to keep friends entertained on long trips? What about storage space, exterior color, or a lifted suspension? What about off-road lighting or on-board tools for trail-side repairs?
This is exactly the challenge that was proposed to Mountain Bike and Jeep enthusiasts across North America earlier this summer, in preparation for the creation of a custom Bike-themed vehicle. The active-lifestyle Jeep project concept was developed by the theme-vehicle designers at J ROBERT Marketing. The J Robert team has become recognized for using these attention-getting creations for unique marketing campaigns. The Jeep project is an extreme example of how active Americans can use available aftermarket products on a vehicle to reflect their lifestyle and personality. "Mountain bikers and Jeep owners are passionate groups!" explained J Robert President, Jhan Dolphin "They know cool gear when they see it, and appreciate quality products that hold-up under extreme use. Our team was amazed at how many really great (and a few crazy) ideas we got from people from across the country." The J Robert team sifted through hundreds of suggestions that were submitted through social media as to what the vehicle should include.
The vehicle is a brand new, 2014 Jeep Wrangler that has been upgraded, modified, and customized with a wide variety of aftermarket goodies, all based on the ideas and suggestions that were sent in. "Our guidelines for the project were pretty basic." explained Dolphin, "The vehicle needed to be comfortable to drive on the highway, yet totally capable off-road. It needed to be able to carry your gear, your bikes, and cater specifically to mountain bikers looking to enjoy a weekend of adrenaline pumping fun."
Dolphin's team has spent the last couple months working to outfit the Jeep with accessories and upgrades from some of the biggest names in the aftermarket automotive and outdoor products industries. It now travels to Las Vegas to be officially unveiled at the SEMA (Specialty Equipment Market Association) automotive industry show November 4-7(BDS exhibit #30192). Then it will travel to multiple U.S. states, taking part in automotive, bike, and active lifestyle events throughout the next twelve months. To see the list of upgrades added to the finished vehicle and find out where it is traveling to next, follow them on Twitter. @TrailSeekerJeep Or… visit http://www.jrobertdesigns.com