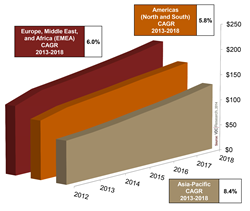 Industrial scanner vendors must invest in partnership development to demonstrate the application capabilities of fully integrated automation solutions.
Natick, MA (PRWEB) October 30, 2014
2013 was a strong year for stationary industrial barcode scanner vendors, as evidenced by VDC Research's recently concluded research on the global market (click here for more info). According to VDC's published data, revenues grew 12% from 2012 to $363 million, backed by a sharp increase in the industrial imager segment. VDC forecasts global revenues to increase to just under $500 million by 2018, at a CAGR of more than 6%. Imaging technology is in the process of revolutionizing this market and users' expectations of it. VDC believes suppliers that can afford to boost their research and development efforts will work toward developing and introducing new products that leverage the massive potential offered by camera technology. There is a distinct possibility of industrial scanner vendors adding to their existing product lines and extending into the highly opportunistic and specialized machine vision market. The competitive landscape will only get bigger and more fragmented as image sensor prices drop even further. However, the breadth and depth of their product portfolios will give cash-rich vendors with brand name recognition in the market a considerable heads-up over their peers.
Explosion in e-commerce sales volumes has retailers and service providers scrambling to get their data capture solutions up to date to enable supply chain visibility, which goes beyond mere product identification into determining the state of the package while also enabling seamless communication across a broad array of connected devices. For online retailers like Amazon, this means expanding warehousing facilities and automation across the globe. For the more traditional brick-and-mortar companies with a growing online presence, this means augmenting their existing processes including order fulfillment to also support online orders, which translates into new types of material handling solutions. VDC's research indicates European scanner vendors like Datalogic, SICK, and VITRONIC are now judiciously expanding their presence into these newer application environments in the region, having successfully established factory and logistics automation in their home market.
"We see growing convergence between machine vision solutions and traditional camera-based imagers in industrial environments, now also extending to the logistics vertical," said VDC Senior Analyst Richa Gupta. "Investments in strategic alliance development with material handling and factory automation integrators will become even more critical to the sales process to showcase how these solutions, together with other sensors and systems, enable dynamic, cross-functional supply chain collaboration."
VDC's research clearly shows the importance of fostering such partnerships, especially as hardware differentiation becomes increasingly challenging. Industrial scanner vendors understand the importance of recurring revenue generation via software and services-related sales in order to stay relevant in this era of options and alternatives. Fixed-position scanners are no longer working in individual silos and are small – albeit critical – parts of the overall factory or logistics automation solution. According to VDC, there exists an inherent need for seamless device integration and communication to facilitate accurate data capture, transmission, processing, and analysis – converting raw data into actionable business intelligence in real time.
About VDC Research:
VDC Research is a leading technology market analyst firm covering the connected world. Founded in 1971, the firm provides market intelligence to the world's leading technology vendors, who rely on VDC analysts for winning market strategies and technology adoption decisions. With unmatched domain expertise and rigorous primary research methodologies, VDC enables clients to find new opportunities for growth and make critical decisions with confidence. Based on a unique blend of quantitative and qualitative analysis that offer granularity and breadth of coverage, VDC is organized around five practice areas, each with its own focused area of coverage. For more information, visit http://www.vdcresearch.com.