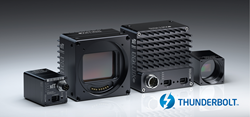 Munster, Germany (PRWEB) October 31, 2014
XIMEA is prepared to showcase the newest innovations on the Vision show 2014 in Stuttgart and as part of the xiLab concept of special cameras there will also be presented unique Thunderbolt™ technology ready cameras that are equipped with the newest sensors from Sony (IMX174) and CMOSIS (CMV20000). Cameras provide highest speeds and direct access to computer memory at 10 and 20 Gbit/s respectively: http://www.ximea.com/en/products-news/thunderbolt-camera-imx174-cmv20000
Developed with unprecedented tempo the cameras, as first in the Machine Vision, offer the data and control interface which is able to deliver such bandwidth without the need of any frame grabbers. The data is streaming directly through Thunderbolt™ cable which can reach distances up to 60m when the fiber option is used.
First model MT200 is based on the very popular 20 Mpix sensors from CMOSIS called CMV20000. Full resolution of this CMOS sensor with Global Shutter can be utilized at 30 frames per second in the 12 bit mode thanks to Thunderbolt™ 2 speeds of 20Gbit/s. Camera itself is further enhanced with the active EF-mount interface for control of dynamic aperture and focus. Use of dual-port Thunderbolt™ 2 makes daisy chain interconnection possible.
Second model MT023 is integrated with the new Sony's CMOS sensors – IMX174 featuring technology called Pregius™ and delivers outstanding imaging performance. With the help of Thunderbolt™10Gbit/s throughput it is also the only camera in the world which is capable to deliver full sensor resolution of 2.3Mpix at 12bit/pix 128fps, or 10bit/pix @165fps. Camera design features compact and robust housing of only 26x26x38mm and can be bus powered removing the necessity of additional power cables or power adapters.
Thunderbolt™ cables from Ximea are equipped with thumbscrews for stable transfer and is excessively tested for compliance to standard. This makes the delivery of image data secure and seamlessly stored directly inside the PC memory where they are immediately available for processing and encoding by CPU and/or GPU. To provide users the ability to synchronize with external equipment or other cameras both models are equipped with opto-isolated inputs and outputs exposed from compact and robust camera body with industrial connector.
Cameras include XIMEA free of charge API/SDK which supports Windows and Mac OS X with Linux support development in progress.
Check the cameras live demo during the Vision show at XIMEA booth1C51 or online at http://bit.ly/ThunderboltCamera.
About XIMEA
For more than 20 years XIMEA has developed, manufactured and sold standard or OEM cameras for machine vision applications in motion control, assembly, robotics, industrial inspection and security, as well as scientific grade cameras for life science and microscopy.
The main distinction is based on extremely robust way the cameras are built while still providing highest speed and power like for example the USB3 Vision camera line.
Drawing on two decades of experience in the industry, XIMEA offer consists of state-of-the-art cameras with FireWire, USB 2.0, PCI Express, USB 3.0 and smart cameras with embedded PC and GigE interface.
Learn more about XIMEA at http://www.ximea.com
"Thunderbolt and the Thunderbolt logo are trademarks of Intel Corporation in the U.S. and/or other countries".