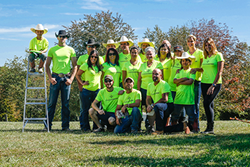 "We're very, very emphatic about giving back." Tom Kallish, the company's Founder & Chairman.
New York (PRWEB) October 30, 2014
Tommie Copper has just announced the launch of their #LIVEPOSITIVE contest that grants one winner $10,000. The company has built its success on creating the category of comfortable copper and zinc-infused compression garments that provide all day muscle relief and recovery with the intention of empowering people to live more positive lives.
Tommie Copper kicked off their #LIVEPOSITVE campaign in Camden, Ohio, by lending a helping hand to one of their own. Shawn Minor, 21-time International Rodeo Association world champion, lost his home when it burned down in a recent fire. When Tommie Copper learned of the tragedy, company founder Tom Kallish sent a full crew to Preble County to help Minor rebuild his home. "This whole thing has been turned into a positive because all our friends are here to help us. Tommie Copper is one big family," explained Tara Minor, Shawn's wife. "We'll have them back in their house before winter, which was the goal," says Kallish, "Family is family for us." Shawn Minor discovered Tommie Copper two years ago while competing for his 18th world title. The compression helped him feel better and recover faster between rides.
The company's other brand ambassadors all share the common theme of living positive and paying it forward, including highly regarded champions such as Dara Torres, 12x Olympic Medalist swimmer & mom; Justin Gatlin, 5x Olympic Medalist, Diamond League's 100m winner & nominee for IAAF's World Athlete of the Year Award; Jessica Aguilar, WSOF Strawweight title holder and Lesley Paterson, 2 - time XTERRA World Champion triathalete.
To ENTER the public can visit: http://www.tommiecopper.com/livepositive and SUBMIT their #livepositive story through photos and videos, now until midnight on November 23, 2014. They can SHARE using #livepositive on all their favorite social sites. The public will come back to VOTE on finalists from November 24, 2014 until December 7, 2014. The $10,000 winner will be announced on December 8, 2014. Each person who enters will receive 15% off their next order.
To learn more, visit http://www.tommiecopper.com
About Tommie Copper
Tommie Copper is the creator of a new category of apparel called INNERGYWEAR™, representing the next evolution of performance apparel. Tommie Copper combines science and skin health benefits for improved mobility, performance and relief. All Tommie Copper products feature 100% CopperZnergy™ copper and zinc-infused fabric. CopperZnergy™ fabric eliminates odors caused by microbes and offers UPF 50+ protection from the sun's harmful UV rays.
Tommie Copper's recovery line of compression sleeves and apparel is designed to be comfortably worn all day and throughout the night. The 4D compression speeds muscle recovery and offers rejuvenating relief from aches and pains naturally.
Tommie Copper's performance collection of compression fit and active fit apparel is ergonomically designed for full range of motion, superior comfort and mobility. The compression fit aids with muscle performance and stability so you can perform at your peak.