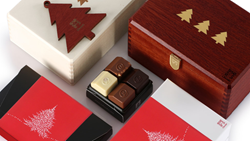 We make zChocolat more than superb chocolates. We make it a unique experience.
Aix-en-Provence, FRANCE (PRWEB) November 19, 2014
zChocolat uses 26 unique recipes created by World Champion Chocolatier, Pascal Caffet. Each numbered chocolate is handmade using high-grade, single-origin couvertures from Venezuela and the Ivory Coast. A meticulous and expert selection of the best products in the world results in zChocolat's signature dark, milk or white chocolates.
Rich ganaches are prepared with French butter and cream from Normandy. Finely textured pralines are formulated from a mixture of Valencia almonds from Spain and Piedmont hazelnuts from Italy. zChocolat procures coffee beans from Kenya and Nicaragua and bourbon-vanilla from Madagascar.
The ultimate French chocolates are elegantly packaged, ranging from handcrafted mahogany boxes to special crimson holiday boxes.
To satisfy every palate, new French delicacies are now available: Fruit Jellies from the orchards of the Alps, Nougats – a Montélimar specialty and Calissons d'Aix – the gourmet emblem of Aix en Provence.
Because zChocolat is committed to elevating the art of gift-giving, every box can be customized. Options range from the initial selection of chocolates to adding a personal photo, logo (for holiday business gifts), personal card and/or engraving.
"The combinations of customization are nearly endless," says Jean-Philippe Khodara, President of zChocolat. "We make zChocolat more than superb chocolates. We make it a unique experience."
zChocolat is an unforgettable gift perfect for this holiday season.
The best way to get zChocolat is to visit their website http://www.zchocolat.com
zChocolat ships to more than 240 countries via DHL, for a flat rate of $19 (15 euros). zChocolat has next day shipping to more than 100 U.S. cities including New York, Chicago, Los Angeles, Philadelphia, Washington D.C., Boston, Atlanta, Baltimore, Minneapolis, Pittsburgh, Seattle and Tampa.
Contact and Useful Links:
Adria HIGDON
PR & Special Events Manager
adria@zchocolat.com
+33 (0)4.42.91.43.67 office line
5, rue Fabrot - 13100 Aix-en-provence - FRANCE
Website : http://www.zchocolat.com