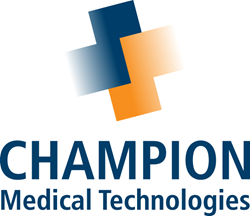 Chicago, IL (PRWEB) November 01, 2014
Champion Medical Technologies is pleased to announce an agreement with Amerinet Inc., a leading national healthcare solutions organization, for tissue tracking and medical device management solutions. Through this agreement, Amerinet members will receive negotiated pricing for Champion's flagship UDITracker® system.
"We are thrilled to support Amerinet members with the tools to help them improve regulatory compliance, increase patient safety and lower operating costs," said Peter Casady, Chief Executive Officer, Champion Medical Technologies.
UDITracker® is a comprehensive medical device management solution that integrates tissue and medical implant tracking, regulatory compliance, inventory management, quality assurance and product recall inventory matching into a single, streamlined system. Using barcode scanners, smartphone apps and RFID storage units, users capture data once and record accurate information to reduce medical errors and ensure patient safety, produce inventory cost savings and to generate business decision-making analytics.
About Amerinet
As a leading national healthcare solutions organization, Amerinet collaborates with acute and non-acute care providers to create and deliver unique solutions through performance improvement resources, guidance and ongoing support. With better product standardization and utilization, new financial tools beyond contracting and alliances that help lower costs, raise revenue and champion quality, Amerinet enriches healthcare delivery for its members and the communities they serve. To learn more about how Amerinet can help you successfully navigate the future of healthcare reform, visit http://www.amerinet-gpo.com.
About Champion Medical Technologies
Champion Medical Technologies is a privately held, healthcare information technology company and leader in implantable medical device management systems for hospitals. Champion's flagship platform, UDITracker®, captures, documents and shares medical implant data between patient care and supply chain information systems, empowering hospitals with the insights they need to increase patient safety and drive down operating costs.
UDITracker® features interoperable interfaces to most electronic health record and inventory management systems, ensuring that medical devices can be uniquely identified, located in inventory, tracked during transfer from storage to the OR and traced directly to patients. Uniquely identified medical device information can be searched, sorted and shared within a single hospital or across a group of hospitals.
RecallConnect®, the only real-time recall inventory and patient matching system on the market, received a Chicago Innovation Award in recognition of its unique patient safety feature. It reduces from months to hours the amount of time it takes hospitals to identify patients and current inventory effected by a medical device product recall.
Founder and Chief Executive Officer Peter Casady established Champion Medical Technologies in 2006. Today, it serves more than 200 hospitals and major medical centers nationwide and is the market leader in tissue compliance and management.
For more information, please visit [http://www.championmt.com.