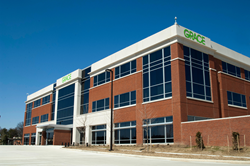 Columbia, MD (PRWEB) October 30, 2014
W. R. Grace & Co. (NYSE: GRA) Chairman and Chief Executive Officer Fred Festa highlighted the company's $100 million capital investment in Maryland over the past three years and the recent addition of 74 employees to its Maryland operations, as Grace introduced state and local leaders to its new global headquarters building at a reception here today.
Marking its 160th anniversary in 2014, Grace has advanced its global footprint in recent years while increasing its commitment to Maryland through capital improvements and job growth fueled in part by acquisitions. The company upgraded equipment at its Curtis Bay manufacturing plant, built new offices, and is renovating research and development labs at its 160-acre Columbia campus to accommodate its acquisition of the UNIPOL® polypropylene process technology licensing and catalysts business in December.
The event brought Grace leaders together with government officials, civic leaders, business partners, neighbors, and many recipients of Grace Foundation grants.
Festa said, "Based on a foundation of talent, technology, and trust, Grace has a bright future. Our talented people help us create and deliver solutions for our customers; our technology enables us to deliver high-value, differentiated products to customer partners around the world; and our long history of meeting our commitments has helped us to earn their trust."
The company has grown its Maryland workforce in the past year to almost 1,200, including many high-wage, high-tech jobs. Average annual employee compensation for Grace's Maryland-based employees last year was over $95,000. Grace employs more than 6,800 people worldwide with operations in 40 countries and customers in 155 countries.
The Curtis Bay facility, with nearly 600 employees, is the company's largest manufacturing facility, creating products for customers around the world. Exports make up more than half of the plant's production, which includes a variety of high-tech catalysts, specialty chemicals, and silicas that are used by Grace customers to produce everything from pharmaceuticals and toothpaste to automobile tires and fuel.
Grace has deep roots in Maryland. Its Curtis Bay facility was opened in 1909 by Davison, which Grace acquired in 1954. Research and development facilities were opened in Columbia in 1958, and the site became the company's corporate headquarters in 1999.
Grace's new 90,000-square-foot global headquarters building in Columbia was designed and constructed to strict environmental standards. Incorporating many products from the Grace Construction Products division, the building recently was certified by the U.S. Green Building Council as LEED Silver (Leadership in Energy and Environmental Design). Among the sustainable design features are a previous concrete parking area, high-efficiency lighting and HVAC, and systems to reuse storm water for irrigation.
About Grace
Built on talent, technology, and trust, Grace is a leading global supplier of catalysts; engineered and packaging materials; and specialty construction chemicals and building materials. The company's three industry-leading business segments—Grace Catalysts Technologies, Grace Materials Technologies, and Grace Construction Products—provide innovative products, technologies, and services that improve the products and processes of our customer partners in over 155 countries around the world. Grace employs approximately 6,800 people including 1,200 in Maryland, in over 40 countries. Grace's 2013 net sales were $3.1 billion. More information about Grace is available at grace.com.
# # #
This announcement contains forward-looking statements, that is, information related to future, not past, events. Such statements generally include the words "believes," "plans," "intends," "targets," "will," "expects," "suggests," "anticipates," "outlook," "continues" or similar expressions. Forward-looking statements include, without limitation, expected financial positions; results of operations; cash flows; financing plans; business strategy; operating plans; capital and other expenditures; competitive positions; growth opportunities for existing products; benefits from new technology and cost reduction initiatives, plans and objectives; and markets for securities. For these statements, Grace claims the protection of the safe harbor for forward-looking statements contained in the Private Securities Litigation Reform Act of 1995. Like other businesses, Grace is subject to risks and uncertainties that could cause its actual results to differ materially from its projections or that could cause other forward-looking statements to prove incorrect. Factors that could cause actual results to materially differ from those contained in the forward-looking statements include, without limitation: risks related to foreign operations, especially in emerging regions, including currency exchange rate changes; the cost and availability of raw materials and energy; the effectiveness of its research and development and growth investments; acquisitions and divestitures of assets and gains and losses from dispositions; developments affecting Grace's funded and unfunded pension obligations; its legal and environmental proceedings; costs of compliance with environmental regulation; and those additional factors set forth in Grace's most recent Annual Report on Form 10-K, quarterly report on Form 10-Q and current reports on Form 8-K, which have been filed with the Securities and Exchange Commission and are readily available on the Internet at http://www.sec.gov. Reported results should not be considered as an indication of future performance. Readers are cautioned not to place undue reliance on Grace's projections and forward-looking statements, which speak only as the date thereof. Grace undertakes no obligation to publicly release any revision to the projections and forward-looking statements contained in this announcement, or to update them to reflect events or circumstances occurring after the date of this announcement.