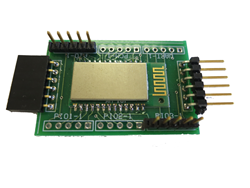 Wayne, NJ (PRWEB) November 03, 2014
In producing Electro-Set™, Cardinal is addressing a large and somewhat fragmented IOT design- development community with a clear opportunity for growth. Cardinal's interface Electro-Set™ boards differentiate themselves from other manufacturers' boards by providing a standard unified 6 Pin connector including I2C interconnect, allowing for rapid proof of concept design and prototyping.
Cardinal Electro-Set™ boards are platform agnostic and can interface with a wide range of processor/development boards on the market, so that, with a simple Cardinal interface shield, design engineers or hobbyists can use all of our boards on their preferred development platform. Initially this includes an Arduino UNO interface board and a MicroChip PIC processor board with USB. Future processor interface platforms will include Intel Galileo, NXP, Raspberry Pi, TI, and Renesas.
These platform boards will connect seamlessly to the Cardinal Electro-Set™, allowing direct plug-in via the unified 6 Pin connector to many sensors and functional building blocks and displays.The Electro-Set™ board-level product is a good match for designers, DIY, hobbyists, and anyone interested in creating interactive objects or environments for IOT-enabled products quickly.
IOT Connectivity can be performed in many ways: 802.11, Bluetooth, Zigbee, GSM, USB etc. New products feature a line of Bluetooth modules, including Bluetooth LE version 4.0, and can be added as a part of the Electro-SetTM kit. Cardinal's initial offerings include both USB and Bluetooth wireless connectivity. Datasheets and software with interface to the web are all inclusive.
You can learn more about Cardinal Components, Inc.'s product offerings and Cardinal's Electro-Set™ products by visiting Cardinal's web site http://www.cardinalxtal.com or http://www.electro-set.net or by contacting Cardinal's COO James Magos at jmagos(at)cardinalxtal(dot)com / 973-689-9960 or any of the Cardinal authorized distributors worldwide.