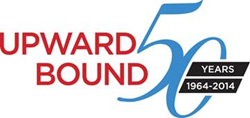 Boston, MA (PRWEB) November 01, 2014
What: On Nov. 8, Upward Bound students and alums from New England colleges and universities will celebrate half a century of leading low-income and first generation students out of poverty through higher education. Leaders from the U.S. program, which grew out of Lyndon B. Johnson's War on Poverty, will join politicians, educators, two generations of Upward Bound alums, and business leaders, in an afternoon-long tribute to equal opportunity through education.
Who:

Dr. Arnold Mitchem, President Emeritus, Council for Opportunity in Education,
Stan Salett, Author and Architect behind Upward Bound
Russell E. Holmes (UB '86), State Representative, MA 6th Suffolk District
Dana Hillard (UB '92), mayor of Somersworth, NH
When: Saturday, November 8th, 12:00pm
Where: Boston University Auditorium and Atrium, 595 Commonwealth Ave, Boston, MA 02215.
Why: Since Upward Bound began in 1964 as a key element of President Lyndon B. Johnson's War on Poverty, the program has motivated and tutored low income students from families where neither parent holds a degree. Upward Bound provides college preparation to students between the ages of 13 and 19, as well as older veterans, who live at or below 150% of the federal poverty level where their chances of earning a bachelor's degree are nearly nine times less than those of their peers in the top family-income bracket. Despite enormous challenges unique to a low-income environment, Upward Bound participants are three times more likely to complete a college degree in six years than those who did not participate in college access services, according to the Pell Institute, a non-profit educational research organization.
How: The Symposium is a free event, however seats are limited. Event registration is required by November 1st. You can find the registration form at the following location https://ub50.eventbrite.com.
If you are interested attending the event, or contacting Stan Salett or Upward Bound Alumni, contact Kathleen Fillion at (508) 999-8714 or kfillion(at)umassd(dot)edu.