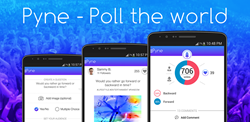 "...combines the instant gratification of a Buzzfeed quiz with the flip-happy speed of a dating app like Tinder." – NY Times
Brooklyn, New York (PRWEB) October 31, 2014
Pyne is a new app that launched on Android last week, following its iOS debut in June. By bringing the wisdom of crowds to mobile devices, Pyne allows users to quickly gauge the public opinion on everyday questions and curiosities. Available as a download on the iTunes Store and Google Play, Pyne has been gaining traction in the US and internationally.
Pyne's main mission is to answer subjective questions in real time by using the wisdom of crowds. Many options exist to answer objective questions, for instance a question such as "How tall is Mt. Everest?" Objective questions are best asked using a search engine such as Google, Yahoo, or even Apple's Siri (It's 29,029 feet tall by the way). However, there is another group of questions that cannot be answered in the same, definitive way. Subjective questions like, "Is Ebola a real threat in the United States," "Should I wear dress shoes on a first date," or "Does Hillary Clinton stand a chance for the Presidency?" are not so easily answered using traditional search engines. Subjective questions require an opinion, and a large number of opinions on a specific topic are not easy to come by. Pyne is changing that, and these types of questions are where Pyne really shines.
There are two main activities on Pyne: asking and answering. Asking subjective questions is done through a simple and intuitive user interface. Pyne allows users to target questions to demographics such as gender and in the future location. Unlike other mass polling apps, Pyne has shown early success in engaging users to answer others questions citing high frequency rates and time on app of users, with many heavy users answering dozens of questions at multiple sessions throughout the day. User interviews cite engaging with others on thought provoking questions presented in an easy to use intuitive design as the main reason for frequent repeat use. This is extremely important because one of the biggest problems and challenges for smartphone apps today is use and retention. Most individuals with smart phones have a relatively small group of apps that they use regularly and it is hard to break into that list. Pyne is focused on becoming one of the apps that people use daily by being both immediately useful and entertaining. It is far more important to have a small group of people who love the app than a large group of people who pick it up for a day and never come back. Pyne is very focused on this and the list of new features and additions is very exciting and will only add to Pyne's value proposition.
About Pyne: Headquartered in Brooklyn, NY, Pyne was founded by Tony Peccatiello and John Campbell, with the help of Happy Fun Corp. The Pyne app was originally released for iOS in June. Since then, Pyne has been mentioned in TechCrunch, The New York Times, BetaBeat, The Next Web, and Gigaom.