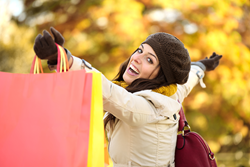 Harrison, ME (PRWEB) October 30, 2014
Although ghosts and pumpkins will be the holiday décor of choice this month, many retailers are already beginning to quiver with anticipation as Black Friday and the Christmas shopping season loom on the horizon. For some online merchants, however, this is also a season for quivering with fear. Increased sales are great for business; however, the increased number of chargebacks that occur during the holidays due to panicked and pressured shoppers can cost retailers a great deal of money and jeopardize their merchant accounts as their chargeback ratio soars.
That's why many merchants find October to be the best month to revisit and revise their return policies. Having an easy-to-find and easy-to-understand return policy greatly helps reduce chargebacks by offering customers a more amiable option to disputing the charge. Although the merchant may still lose the sale, they can often avoid racking up strikes against their merchant account.
Return Policy Best-Practices
1. Make your return policy easy to find
Don't bury the link to your return policy in the footer, hoping your customers won't notice it. Like the ostrich with its head in the sand, merchants who pretend customers who can't find the return policy will just keep their items will be unpleasantly surprised when they resurface into reality. Consider creating a new tab summarizing your return policy on each product page or posting a link to the full policy in a prominent place. The easier it is to return an item, the less likely your customer will be to dispute it with the credit card company.
2. Avoid legalese
Make your policy easy to understand and avoid legal jargon. If you need a highly detailed and technical policy, consider summarizing it in user-friendly terms first. By making your policies clear and easy to understand, you encourage your customers to engage in the process instead of avoiding it.
3. Consider covering the expense
Although not all businesses can cover return shipping costs, this is a nice feature to offer where you can, especially for high-ticket items. It not only encourages your customers to return unwanted items instead of initiating large chargebacks, but it also reduces the risk involved with making the initial purchase, encouraging sales.
4. Make it easy
Do everything you can to make the return process easy for your customers. Include a copy of your return policy in the box with their product, clearly state any time limits on returns, and don't be overly strict, especially when a customer is faced with extenuating circumstances. In the long run, customer retention is more important than any single transaction, and a customer who is bent on receiving his money back may initiate a chargeback if you refuse to accept a return.
5. Offer store credit, when appropriate
If you don't offer refunds on an item, consider offering customers a store credit instead. By doing this, you're meeting your customer halfway by offering him something in return for his product, even if you can't fully reuse the inventory. Many customers will remember this gesture of goodwill for a long time.
6. Consider extended holiday returns
Even if your normal return policy is 30 or 60 days, consider making an exception for gifts purchased during the holiday season. You may want to consider adding a box the customer can check off during the checkout process that indicates whether or not the item is a gift or you can simply offer an extended warranty on everything purchased during the holiday season.
In short, create a return policy with the customer in mind. Make it easy to find, easy to understand, and easy to implement. Practice good customer service by covering the return shipping when possible and offering alternatives such as store credit, when a refund is not feasible. Be understanding of extenuating circumstances, such as holiday gift purchases. By practicing these things, you will not only improve your customers' satisfaction but also protect yourself against unnecessary chargebacks by making it easier and more pleasant to return an item than dispute the charge.
About E-Commerce 4 IM
E-Commerce 4 IM offers credit card processing, web marketing, SSL certificates, and hosting for online merchants. They specialize in helping high-risk vendors, such as nutraceutical, weight loss supplement, e-cigarette, and multi-level marketing vendors, obtain credit card processing solutions that meet their business needs.