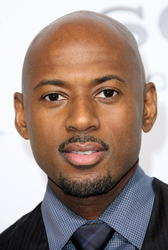 Houston, TX (PRWEB) November 01, 2014
Television and film star Romany Malco returns to Texas November 6-8 to meet fans and speak to students during his three-day "Back to Baytown" event. Malco was raised in both the Caribbean and New York, but moved to Texas as a teen. He spent his formative years in Baytown (approximately 22 miles east of downtown Houston), graduating from Sterling High School. Despite a tumultuous childhood, Malco went on to form a successful music career, which eventually led him to pursue acting at the urging of actor/producer John Leguizamo.
Malco's breakout role was in the 2005 hit movie "The 40-Year-Old Virgin" alongside Steve Carell. He is also known for his roles in the blockbuster films "Blades of Glory" opposite Will Ferrell; "Think Like A Man" and its sequel, "Las Vegas" starring Michael Douglas; and for his part on Emmy Award-winning drama "The Good Wife." Malco is currently filming Sony Pictures TV series "Mad Dogs" and was cast as the lead of movie-turned-TV pilot "Keep It Together," co-starring Kevin Hart.
The three-day event will consist of a community meet and greet, a "Night Out with Romany Malco," and speaking engagements at Baytown area schools. All proceeds will go to benefit A-PLACE.Org, a youth-based not-for-profit organization. The mission of A-PLACE.Org is to create a world where justice, opportunity, and compassion are equally available to every individual. A-PLACE.Org has provided services to hundreds of youth through partnerships with organizations in the United States and overseas.
Malco is no stranger to philanthropy. While on a recent Michigan trip, he turned to social media for suggestions of local charitable organizations. His inquiry led to thousands of replies from fans, resulting in him visiting several area youth groups, including Covenant House Michigan, Boys Hope Girls Hope and Wolverine Human Services.
Malco believes that having an authentic relationship with his fans is important, so whether connecting with them via social media or in person, he wants to be accessible despite his success. He is excited to return to Texas and give back to the community that gave so much to him.
SCHEDULE OF EVENTS:

1 pm: Speaking engagement at Lee College, 200 Lee Drive, Baytown, Texas 77520.
6-8 pm: Meet & Greet (SOLD OUT)– Lee College Performing Arts Center. Join Romany Malco for a brief talk and Q&A. This event is open to the community and is free of charge.
Speaking engagements at area schools.
8pm-close: "Night out with Romany" at The Dirty Bay Beer Company in Baytown, 224 W Texas Ave, Baytown, TX 77520. $10 at the door (21 and over). Dinner with Romany will be raffled off for only $5 per ticket!
Connect with Romany Malco on Instagram, Facebook, and Twitter via handle @RomanyMalco. Join the conversation across social media platforms by posting with hashtag #BacktoBaytown.
###