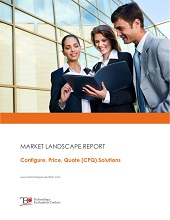 "The key to selecting the right CPQ software for your organization is to focus on what is needed most— this will help break down the hype and decipher the real differentiators in the market." -- Ted Rohm, TEC Senior ERP Analyst
Montreal, Quebec (PRWEB) October 31, 2014
Configure, price, and quote (CPQ) solutions can help a company drive sales effectiveness by playing a critical role in the lead-to-win sales process. Over the past few years, Technology Evaluation Centers (TEC) has witnessed a growing need for CPQ solutions due to increasing customer demand for products and services that are tailored to their specific needs. TEC senior technology analysts, Ted Rohm and P.J. Jakovljevic summarize their findings in a new TEC CPQ Market Landscape Report.
Customers want—and are becoming accustomed to—an ever growing range of product options to select from, such as different styles, colors, and makes, with an extensive menu of service options. This "customization" of products is further extended by personalization, where even household names like Ferrari and Hallmark allow their customers to design their own products. Another growing industry trend is toward "servitization," or the selling of additional services that must be appropriately bundled to provide the right mix for the customer.
Research shows that organizations using CPQ software improved overall sales effectiveness and have seen an increase in their average deal size. Furthermore, cloud and mobile technologies add a significant advantage to organizations with sales or field specialists on the move by empowering them with the capability of producing an accurate, customized quote on the spot.
Despite fluctuations in the market, including acquisitions by some of the larger vendors, Rohm and Jakovljevic understood from speaking with a number of leading solution providers including Apttus, Callidus Cloud, Model N and Tacton, that fluctuations create gaps which make way for innovative and creative solutions to appear, benefitting the users.
"Mergers and acquisitions can create confusion for those looking to buy CPQ software, but the key to selecting the right CPQ software for your organization is to focus on what is needed most— this will help break down the hype and decipher the real differentiators in the market," said Rohm.
To read Rohm and Jakovljevic's overview of the market to help find the CPQ solution that best fits your needs, and to get the background and highlights of industry-leading CPQ solution providers including Apttus, Blue Zebra, Callidus Cloud, Configit, Configure One, Experlogix, FinancialForce.com, Infor, Model N, Oracle BigMachines, Tacton, and Verenia, download the TEC CPQ Market Landscape Report.
Those interested in evaluating CPQ software, can also visit the TEC CPQ Evaluation Center or contact TEC Evaluation Services at +1 514-954-3665, extension 404, or e-mail selectionservices(at)technologyevaluation(dot)com
About Technology Evaluation Centers Inc. (TEC)
Technology Evaluation Centers (TEC) is a software advisory firm helping private and public sector organizations around the world make informed enterprise software decisions—saving time, money, and heartache. The online Evaluation Centers, containing IT research and extensive software models that catalog vendors' support for thousands of enterprise software features and functions, are the leading resources for IT decision makers around the world. By combining the online evaluation centers and providing onsite personalized advisory services, TEC has developed its offerings and solidified its unique position operating in the cross-section of the software consulting, analyst, and research markets.