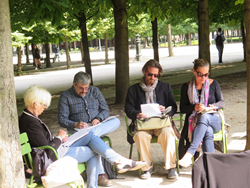 "We're in Paris, writing, eating and drinking wine – writers return home rejuvenated," says Left Bank Writers Retreat host Darla Worden.
Denver, CO (PRWEB) October 31, 2014
Hemingway and the venerable Shakespeare and Company bookstore are only two of the many literary inspirations that writers attending the annual summer Left Bank Writers Retreat will discover. The writing workshop held in Paris, France, each June investigates writing – and the City of Light – through the eyes of the Lost Generation. This year's retreat, now in its sixth year, will take place June 14 -19, 2015, and retreat founder Darla Worden has been honing her list of writing prompts, insider tips and off-the-beaten path literary landmarks for the small group of writers she hosts each summer. "It's fun to share that little-known apartment where Hemingway lived and, of course, the best outdoor writing spots for sure inspiration," Worden says.
The Left Bank Writers Retreat is currently accepting applications for June 2015. Open to all levels of writers, the six-day writers' tour includes morning writing sessions, coaching and one-on-one time with the instructor for a maximum of eight writers, as well as lunch each day, admission to museums and area sights, an excursion to Montmartre, a picnic on the banks of the Seine and a literary tour visiting sites that include many featured in the Woody Allen movie "Midnight in Paris." Tuition for the 2015 retreat is $1,999.
The Left Bank Writers Retreat approaches Paris through a literary lens that borrows writing tips from the many famous writers who lived and wrote in the city, as well as introducing workshop writers to a salon-style writing format and some key Paris literary landmarks. "For writers interested in experimenting with their own writing by trying out some of Hemingway's tried-and-true techniques, the Left Bank Writers Retreat offers an experience unlike any other writing workshop," says Worden.
Retreat guests truly do find fresh inspiration for their writing where so many famous writers have gone before, explains Worden. "The retreat works magic on writers," she says. "We're in Paris, writing, eating and drinking wine – writers return home rejuvenated. We've had award-winning and published work come out of our summer fun."
The Left Bank Writers Retreat welcomes fiction and memoir writers, poets and playwrights. Writers wishing to join the retreat will find an application at http://www.leftbankwriters.com. "Although there are no strict qualifications, each year I try to select a group that will work well together," says Worden. "Also I like to see what writers are hoping to accomplish while they are in Paris to make sure we are the right writing retreat for their expectations."
Left Bank Writers Retreat facilitator and host Darla Worden is a writer and public relations professional who lives in Jackson, Wyo., Denver, Colo., and Paris. Worden, interviewed in Insider Perks about her love of travel, has written widely for magazines and authored several books. She writes the popular blog Frenchophile and is currently working on a book about Hemingway's Paris.
About the Left Bank Writers Retreat:
Now in its seventh year, the Left Bank Writers Retreat takes place on the historic Île Saint-Louis in the heart of Paris. Writers arrange their own lodging and transportation to Paris. For additional information, visit http://www.leftbankwriters.com.
Contact:
Darla Worden, WordenGroup Public Relations, darla(at)wordenpr(dot)com, 303.777.7667