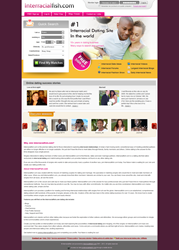 Love is color blind-Interracialfish.com
Los Angeles California (PRWEB) November 04, 2014
Times have changed and today more and more people are going online to find interracial love. People come to dating sites looking for stable relationships or casual interracial dating. Interracialfish.com is the premier interracial dating site for those who are interested in exploring interracial relationships. In today's fast-moving world, conventional ways of meeting potential partners are either no longer effective or no longer available. People just don't have the time to meet dates through friends, family members and others. Online dating is the answer for the time-strapped, busy single person.
Singles interested in dating members of other races can join InterracialFish.com to find friends, dates and even marriage partners. InterracialFish.com is a dating site that caters exclusively to interracial dating and interracial matchmaking. Interracialfish.com provides features that are not found on other dating sites, such as interracial dating advice, interracial videos, interracial date ideas, interracial fashion show.
Elena, the leader of InterracialFish.com, said "InterracialFish.com was created with the mission of matching couples for dating and marriage. We specialize in matching singles who would like to meet and date members of other races. When you visit InterracialFish.com, you already know that other members' interests are similar to your own. You can register a profile, then search and chat with singles from all races, all over the world."
Interracialfish.com provides a platform for meeting and forming interracial relationships with singles from all over the globe. Interracialfish.com is an established, comprehensive dating network with hundreds of thousands of singles already on the site. Creators of the site have been in the online dating business for over 12 years. They know how to create communities where singles are able to meet and easily interact.
InterracialFish.com stands out from other dating sites because it fosters the exploration of other cultures and ethnicities. It encourages ethnic groups and communities to mingle to find commonalities and to share experiences.