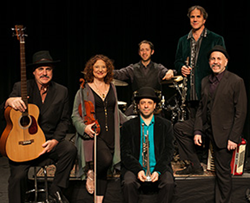 Owings Mills, MD (PRWEB) October 30, 2014
On Sunday, January 18, 2015, at 7:00pm, the New York-based Klezmatics along with special guest Joshua Nelson will take over the Gordon with a brilliant live performance entitled Brother Moses Smote the Water. This multicultural performance will blend age-old Hebrew Passover songs and Nelson's unique brand of kosher gospel, interwoven with traditional Yiddish anthems.
The Klezmatics erupted out of New York City's East Village in 1986 to revitalize klezmer for a new generation, performing music steeped in Eastern European Jewish tradition and spirituality, and blending themes such as human rights and anti-fundamentalism with eclectic musical influences including Arab, African, Latin and Balkan rhythms, jazz and punk.
Brother Moses Smote the Water highlights Joshua Nelson, an African-American Jew known as the Prince of Kosher Gospel. A former Hebrew School teacher, Nelson's Judaism goes back six generations to West Africa. He was recently referred to by Oprah as "the next big thing in music."
In the Brother Moses performance, the Klezmatics and Nelson join forces to explore the complexity of Jewish identity, Black identity, and human identity.
"If you love Klezmer, soul, and the fusion of multiple musical styles, then you will love this performance," said Randi Benesch, Managing Director of the Gordon Center. "This is the perfect event for the Martin Luther King holiday weekend. The Klezmatics are internationally renowned. They have played with Arlo Guthrie, Itzhak Perlman, and the Ben Folds Five. They have literally reached millions and now we have them here with Joshua Nelson, all to ourselves, for one incredible evening at The Gordon."
To understand the music and energy you will experience when you see The Klezmatics and Joshua Nelson live, please check out the Brother Moses video https://drive.google.com/folderview?id=0B2SuxeXYC5SfTW9TU2RtWi0weFU&usp=sharing&tid=0B2SuxeXYC5SfU3dNTXdtSUh1ZFU
And, on this wonderful multicultural evening, the Gordon is proud to present, as very special guests, Baltimore's Bethel AME Church Outreach of Love Gospel Choir.
Tickets are $30 in advance; $34 at the door, and may be ordered online at http://www.gordoncenter.com. The Gordon Center is located on the campus of the Rosenbloom JCC at 3506 Gwynnbrook Ave., Owings Mills, MD 21117. The Box Office can be reached at 410.356.7469.
###
The Peggy and Yale Gordon Center for Performing Arts is Baltimore County's premiere arts destination. The Gordon Center offers an eclectic variety of professional entertainment in music, theater, dance, family programming and film. You will experience world-class acoustics in an intimate, state-of-the-art venue. Free parking in well-lit spaces, handicap accessible, and equipped with a special RF system for the hearing impaired, the Gordon Center can be enjoyed by all.