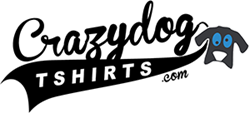 Rochester, NY (PRWEB) November 05, 2014
Crazy Dog T-Shirts, a leader in customized and outside-the-box T-shirts, tanks, hoodies and maternity shirts, has moved into a new warehouse that will increase its ability to service its customers. The new 20,000 square foot warehouse gives the company more space to print and process orders for its online novelty shirt business, wholesale fulfillment operations, and custom printing services.
Customers can choose from a large selection of shirts online at http://www.crazydogtshirts.com, ranging from flip-up tees that turn them into dinosaurs and zombies, to ugly sweater tees for Christmas parties, funny maternity shirts, and everything in between. Businesses, organizations and individuals in need of custom apparel will also continue to benefit from the company's full-service design and printing services.
Prices start at $6.99 and many shirts are on sale, giving youth groups, companies, nonprofits, church groups, wedding planners, and families the ability to save money on their order. Customers who want to design their own t-shirts will find an easy user-friendly apparel design studio on the company's site which lets them upload their own image, create text, edit product color and view the design from different angles before placing their order. The designs can be applied to hats, shirts, and even bags, making it easy to create items for corporate retreats, family reunions, charity runs and other special events. To see the entire selection of design options, please visit http://www.crazydogtshirts.com.
About Crazy Dog T-Shirts
CrazyDogTShirts was born in a college dorm room in 2004. Today, it operates from a new 20,000 square foot warehouse facility, offering dozens of in-house designs as well as providing custom screen printing services to customers. The company specializes in offering unique designs, high quality t-shirts, and the best prices available.