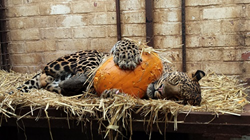 Rescued from circuses and zoos our big cats do no longer have to perform tricks to receive treats
Boston, Massachusetts (PRWEB) October 30, 2014
With Halloween approaching, costumes of witches, zombies, ghosts and Jack O'Laterns everywhere around, the big cats in the Dutch rescue center FELIDA are celebrating their own little Halloween party. Lioness Noor, lion Giovanni and leopard Bakari were thrilled with their new enrichment: big Halloween pumpkins.
Like any other enrichment the pumpkins help the animals to rediscover their natural behavior, that has dulled during years of living in poor conditions. Presenting new items and scents help to alleviate boredom and improve the general well-being of the animals.
Lioness Noor originally comes from a zoo and has been in the sanctuary since 2006. Noor examined her Halloween pumpkin critically from all sides before she finally grabbed it and carried it delightedly back and forth in her enclosure.
Lion Giovanni used to be a tourist attraction in Italy, where travelers would have their picture taken with him. In 2005, at the age of one, he became too big and heavy to be carried and was handed over to the rescue station. Giovanni also relished in his Halloween surprise – he nibbled at it for so long the pumpkin finally broke into small pieces.
Bakari, an African leopard was also very pleased with his vegetable snack. He was born in a German zoo, were visitors could take pictures with him. When the zoo was no longer interested in him, he came to the rescue center. This playful animal needs to be challenged and the pumpkin turned out to be a target that could be pounced on over and over again. As a result, the pumpkin was soon pulverized.
About FELIDA
FELIDA is a FOUR PAWS rescue centre for big cats in the Dutch village of Nijeberkoop. The center was founded approximately 20 years ago as In October 2013, the Vienna-Austria and Boston-MA based FOUR PAWS took over the center and started implementing necessary changes to improve the animal welfare situation. In the future FELIDA will become a transit station for big cats, as well as, a permanent center for those animals that cannot be transferred anymore meeting the FOUR PAWS standards for animal welfare and safety. There are currently 2 lions, 15 tigers, a black jaguar, and two leopards at FELIDA.