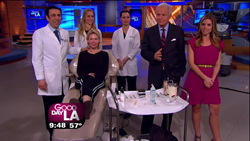 Los Angeles, CA (PRWEB) October 30, 2014
On October 21, 2014, Vogue Magazine published an online article titled "How to Get Rid of Dark Spots: From the Latest Supercharged Lasers to Topical Retin-A," that provides readers a brief overview of skin discolorations and treatment options. Skin discolorations usually take the form of dark spots, freckles, or scars. Generally, dark spots tend to grow larger over time, so early intervention is recommended. It is also important to determine prior to treatment that the dark spot isn't a melanoma, a potentially life-threatening health risk. (see: goo.gl/50lhH9)
"We treat dark spots and discolorations every day in our clinic," says Dr. Ourian, Medical Director of Epione Beverly Hills. "I believe it's important for consumers to have an initial skin evaluation with a medical professional."
According to the Vogue Magazine article, the first line of defense is an over-the-counter or prescription cream or lotion that contains Retin-A. Retin-A can help exfoliate away minor discolorations, as well as help prevent future issues with its photo-protective antioxidant. The next level of dark spot removal is a series of chemical peels containing trichloroacetic acid (TCA) or glycolic acid. These peels provoke the skin's wound healing response to expel dark pigments.
"We offer different laser resurfacing options depending on the level of treatment required," says Dr. Ourian. "CoolFrax is our fractional laser treatment protocol for lighter applications and Coolaser is used for deeper treatments."
Dr. Ourian has been a pioneer in laser technology and non-invasive aesthetic procedures including Restylane, Juvéderm, Radiesse, Sculptra, and CoolSculpting. These treatments are used for the correction or reversal of a variety of conditions such as acne, acne scars, skin discoloration, wrinkles, unwanted fat, stretch marks, varicose veins, cellulite, and others. More information about treating dark spots can be found on Epione's website.