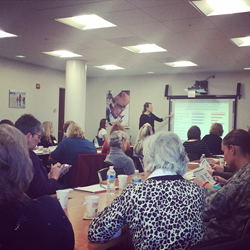 Our goal is to create conversations about transition from military to civilian life...
Alexandria, VA (PRWEB) October 31, 2014
The National Military Family Association (NMFA), a nonprofit that works to strengthen and protect military families, kicked off its Military Family Transition Project yesterday with "Conversations About Transition," a round table discussion with 30 representatives from federal agencies and military-focused organizations in the Washington, D.C. area.
"Historically only 17% of service members will retire," said NMFA Government Relations Director, Kathy Moakler. However, with the drawdowns, a significant number will separate from the Services at the same time, causing a much higher percentage of families going through transition."
A May 2014 NMFA survey of spouses revealed that only 11% feel prepared for transition – 72% feel stressed.
"This presents another challenge when it comes to our military families being prepared for transition," said Moakler.
The survey revealed five key areas of stress for transitioning military families:

Financial Readiness
Employment
Healthcare
Behavioral and Emotional Health
Understanding VA benefits
More than 200,000 service members leave the military each year, and while about 2,500 service members did receive pink slips this year, the other 197,500 are leaving the military through retirement or by choosing to separate.
"Our goal is to create conversations about transition from military to civilian life and we recognize no two transitions are the same," said Joyce Raezer, executive director of the NMFA. "Whether someone is downsized, completes an initial enlistment contract, is medically separated, or retires – they deserve support and resources to ease their transition."
NMFA's survey found 3 key issues that military spouses of active duty and retired spouses face during transition: understanding VA benefits and services, finding employment for their service member and replacing TRICARE.
"The problem is not that the resources aren't out there, it's getting the families to where the resources are," said Eileen Huck, NMFA Government Relations Deputy Director. "That's what yesterday was all about – finding out where our families are to make sure they have all resources available."
The organizations involved in yesterday's discussion committed to working together as a community to help increase knowledge and access of these resources for families.
About the National Military Family Association
The National Military Family Association is the leading nonprofit dedicated to serving the families who stand behind the uniform. Since 1969, NMFA has worked to strengthen and protect millions of families through its advocacy and programs. They provide spouse scholarships, camps for military kids, and retreats for families reconnecting after deployment and for the families of the wounded, ill, or injured. NMFA serves the families of the currently serving, retired, wounded or fallen members of the Army, Navy, Marine Corps, Air Force, Coast Guard, and Commissioned Corps of the USPHS and NOAA. To get involved or to learn more, visit http://www.MilitaryFamily.org.