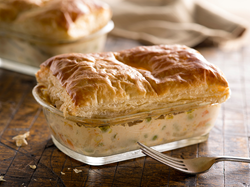 Oklahoma City, OK (PRWEB) November 01, 2014
Wondering what to do with your Thanksgiving leftovers? The Made in Oklahoma Coalition has created three scrumptious recipes utilizing those humdrum scraps to create the perfect leftovers meal. So dump the turkey sandwiches and plain boring pie and opt instead for a turkey pot pie followed by a drizzled Chocolate Coffee Sauce Pie and Bacon Ice Cream for dessert.
The Made in Oklahoma Coalition recipes offer delicious dining ideas while promoting the brands manufactured in the state. For these unique recipes, M.I.O. has partnered eight Oklahoma based member companies to help prepare this family meal: Hiland Foods, Shawnee Mills, Daddy Hinkle's, Field's Pie, Griffin's, Prairie Wolf, Bar S, and Big Mama's.
Turkey Pot Pie
6 tablespoons Hiland Salted Butter
1 yellow onion, chopped
½ cup Shawnee Mills All-Purpose Flour
1 teaspoon Daddy Hinkle's Original Seasoning
¾ teaspoon salt
½ teaspoon black pepper
2 cups chicken broth (or leftover turkey stock)
1 cup Hiland Milk
3 cups cooked and diced turkey (white or dark meat)
2 cups frozen mixed vegetables, thawed
½ teaspoon dried thyme
1 tablespoon dried parsley flakes
1 package frozen puff pastry sheets, thawed
1 egg
1. Heat butter in a sauté pan over medium heat. Sauté onion until tender and golden. Whisk in flour, Daddy Hinkle's seasoning, salt and pepper. Slowly add chicken broth and then milk, stirring to combine. Cook until thick and bubbly. Add turkey, vegetables, thyme and parsley flakes.
2. Pour filling into 6 to 8 (depending on the size) individual ramekins.
3. Cut puff pastry into squares to fit the tops of each ramekin. Place pastry on top of each ramekin, then cut a steam vent in the center of each. Place ramekins on a cookie sheet to catch drips while baking.
4. In a small bowl, beat egg with fork. Use pastry brush to spread egg wash on pastry.
5. Bake at 400 degrees for about 15 to 20 minutes, or until pastry is golden brown and cooked through.
Field's Pie with Chocolate Coffee Sauce
1 Field's Pecan Pie
1 cup Griffin's Waffle Syrup
4 oz. semi-sweet chocolate pieces
2 tbsp. Prairie Wolf DARK Coffee Liquor
1 tsp. vanilla extract
1. Melt chocolate pieces in syrup over a double boiler on low heat.
2. Add Kaluha and the vanilla extract, and heat until shiny and smooth.
3. Spoon over Field's Pecan Pie and top with whipped cream.
Bacon Ice Cream
2 cups half-and-half
1 cup whipping cream
1 /2 cup sugar
3 tablespoons Griffin's Butter Pecan Syrup
1 tablespoon vanilla extract
4 egg yolks
6 strips of Bar S Bacon chopped
1 Field's Pecan Pie
1 Big Mama's Peach Cobbler
1. Combine all ingredients except egg yolks and bacon in a large saucepan and place over medium heat. Bring to a simmer.
2. Remove from heat and temper in the egg yolks. Pour mixture into container and add chopped bacon, refrigerate mixture until cooled completely.
3. Once mixture is completely cooled, freeze mixture in ice cream freezer according to unit's instructions. The mixture will not freeze hard in the machine.
4. Remove from ice cream machine and place in freezer for at least 1 hour before serving.
5. Serve with either Field's Pecan Pie or cobbler, either is so good!
The Made in Oklahoma Coalition provides a marketing and promotional platform to assist more than 45 current Oklahoma food manufacturers. M.I.O.'s marketing programs build brand preference and loyalty for member products. Coalition-member companies create a positive impact on the Oklahoma economy by helping put more than 27,000 people to work. These member companies generate over 3.5 billion in annual sales for Oklahoma. Collective and cross-marketing programs, organized by the coalition, increase sales throughout the state, nation and abroad. The M.I.O Coalition continues to expand the footprint of Oklahoma's food processing sector through business retention and stable growth. M.I.O., Good for Oklahoma. Good for you. For more information visit http://www.miocoalition.com.
###