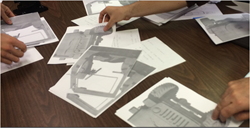 (PRWEB) November 01, 2014
INSPIRATION – part 1 of the Road to SEMA story – documented Amanda Products' search for exciting new off-road products after winning a Global Media Award for SpeedHook™ at SEMA '13. That journey took them in search of real-world feedback – from Ultra4 and Dirt Riot races on the west coast to Jeep Beach on the east coast where – for the first time – they met off-roaders who prize appearance as much as function. Those enthusiasts suggested SpeedHook™ be built into a "cool new bumper;" and the next concept was born. But what does "cool" look like?
In DESIGN – part 2 of 3 – we follow Amanda Products' unique creative process from great idea to cool new products. Amanda Products and Amanda Manufacturing are part of the Deshler Group; executive, engineering and manufacturing from all three came together to work with a hand-selected design team. M3D Experiences guided the process from initial critique and brainstorming to incubation, illustration and selection.
One of the designers explained the process this way. "The biggest thing I liked was Amanda Products didn't really take the automotive approach, which is very competitive. From the beginning they took a product approach – got everybody together and did two full days of brainstorming, writing everything down on sticky notes and pasting on the wall. The facilitator prefaced it with – 'there is not one bad idea here; if you have an idea we will put it on the board.'" Agreement on design direction was easily reached.
Part 3 – PROTOTYPE – will explain the decisions and challenges involved in giving shape to the design. Follow the Road to SEMA 2014 at http://amandaproducts.com/sema2014/, keep up with the latest news on their Facebook page http://www.facebook.com/AmandaProductsUSA, and learn more on the Amanda Products website: http://www.AmandaProducts.com.
Amanda Products is the off-road marketing brand of Amanda Manufacturing, an original equipment supplier in Logan, Ohio. The company produces more than 300 quality metal formed parts for automotive manufacturers, including hood-prop rods, hood/door/seat strikers, muffler hangers, fender braces and manual shift assemblies.