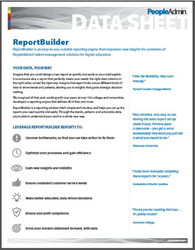 "Very intuitive, very easy to use.Having the basic report set-up made it easy. Preview pane is awesome – you get a sense immediately that what you just did is what you meant to do."
Austin, Texas (PRWEB) October 31, 2014
PeopleAdmin, the leading provider of on-demand talent management solutions for higher education, announced the availability of SelectSuite® ReportBuilder™. This enhancement adds major, market-leading reporting functionality to their talent management suite of solutions.
ReportBuilder provides the ability to build a near-infinite number of reports from a library of standard templates. Users can create the exact report they need and preview the data in real time every step of the way while narrowing down and organizing the data with targeted filtering, sorting, and grouping. Additionally, powerful export functionality allows users to extract data in a variety of formats.
"Reporting is a critical component to any institution. The quality of the reports depends on the quality of data in the system. SelectSuite is designed to support the unique needs of higher education. That design enables us to provide more insightful and valuable reports to our customers," said Troy Winskowicz, VP of Product Management for PeopleAdmin. "We are excited to launch ReportBuilder, which was developed in partnership with dozens of higher education partners. Their feedback was essential to the quality of the final product that literally empowers millions of potential reports to our customers. It's easy to use and extremely powerful."
With ReportBuilder, PeopleAdmin's customers will be able to get actionable data into the right hands at the right time to uncover bottlenecks in their hiring processes and gain efficiency, ensure audit compliance, and drive their institutional mission statement forward.
Click to see a demonstration of ReportBuilder.
About PeopleAdmin
PeopleAdmin is the leading provider of cloud-based talent management solutions for higher education and government. PeopleAdmin's software enables more than 700 clients to streamline the hiring process; onboard new employees; efficiently manage positions and employee performance; develop compliant, defensible audit trails; and utilize industry-leading reporting and metrics. Their integrated talent management suite, SelectSuite®, includes applicant tracking, faculty search committee management, position management, onboarding, and performance management. PeopleAdmin solutions are rapidly deployed, easy to use, and supported through a world-class customer service organization. For more information please visit: http://www.peopleadmin.com.