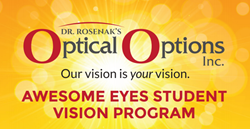 We hope to help more children and families see clearly and address any problems early-on so that they are ready for a lifetime of school success.
St. Joseph, Missouri (PRWEB) October 31, 2014
With all the preparations families carry out to prepare for school, one Midwest optometrist feels they may overlook one critical area – the potential for undiagnosed vision problems to affect areas like concentration, school performance and even behavior. Typical children's vision screenings at public events may be too brief to identify progressive vision problems, and to address this challenge, Dr. Rosenak's Optical Options, St. Joseph, Mo., announces a new initiative: The Awesome Eyes Student Vision Program.
The Awesome Eyes Student Vision Program is a new program geared toward helping families recognize and diagnose vision problems early in school-aged children – before they develop into serious learning barriers or lifelong vision challenges.
"Many states require a vision screening for all children who are starting school, but that screening may not be enough," says Dr. Rosenak. "We see families in our office who wish they'd had a comprehensive vision exam sooner and they are often able to look back and connect various symptoms occurring in their child's classroom that all point to an undiagnosed vision problem."
The program was created by Dr. Rosenak and his team because many in-school screenings are not designed to catch all eye problems or evaluate eye health, and this can make an impact on a child's learning even during initial school and preschool years. Additionally, children may not be able to describe vision problems they're having (or related symptoms) and need the help of a professional optometrist to identify these problems. State laws have changed, and some students may not receive a vision exam at all before starting school.
If untreated, the consequences of vision problems for school-aged children can be severe, such as:

Difficulty paying attention in class or completing assignments
Perception of boredom at school and restless behavior due to inability to focus clearly
Higher risk of "giving up" on school work due to vision problems and headaches
Stress related to going to school, which can affect social relationships, performance and physical health
Unwillingness to participate in individual or group work, resulting in being held back or falling behind
Lessened self-confidence and even feelings of depression.
Permanent vision damage or even loss can result if eye problems are untreated.
Parents may be surprised at how early a child should start receiving vision testing. According to the American Optometric Association (AOA), infants should have their first comprehensive eye exam at 6 months of age. Children should then have a vision test again at 3 years of age, and just before they enter kindergarten.
For children already in school, doctors suggest an eye exam annually, even if there are no outward signs of problems. This is because children's vision changes as they grow and new problems can be undetected if eye exams are not repeated.
Early eye exams are also critical because several distinct vision skills are needed for ongoing learning and brain development, such as viewing up-close objects and those far away; moving eyes from one area to another; developing peripheral awareness and enhancing eye/hand coordination.
"We see parents often who had no idea that their child had a vision problem, and once we identify that problem, the pieces sort of come together as far as how it has been affecting their development," says Dr. Rosenak. "While a basic screening you could receive at an education event is important, many parents need to be educated that annual exams are needed as a child develops.
"We're concerned about children facing learning problems, behavior problems and social/emotional consequences because our state doesn't require an eye exam for all children entering school. The Awesome Eyes Student Vision Program Success is designed to help solve this problem by providing these in-depth eye exams early enough for diagnosis and treatment."
Rosenak also notes that in some cases, parents have brought children in for suspected vision problems -- but the progression has been too far advanced to provide a vision solution. "That's a really sad situation for the whole family that could have been prevented if kids would have had regular eye exams early in their school careers. We hope to help more children and families see clearly and address any problems early-on so that they are ready for a lifetime of school success."
Families who participate in the new Awesome Eyes Student Vision Program will receive ongoing facts and information about vision for their children and invitations to events where Dr. Rosenak and his team will be present to answer questions, such as community-wide parenting events. They will also receive regular exam reminders and discounted products and services.
About Dr. Rosenak's Optical Options
The professionals at Dr. Rosenak's Optical Options provide each patient with quality vision solutions and exceptional customer service. Dr. Rosenak and Dr. Fitzgerald are experienced in all areas of vision care. They have the largest selection of kid and teen frames in the area all with a one year warranty. Dr. Rosenak has recently been named St. Joseph's favorite eye doctor and Dr. Fitzgerald received the Certificate of Excellence from Vision Service Plan insurance (VSP) to acknowledge her outstanding patient care.